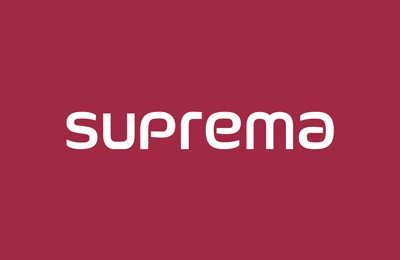 Suprema inc.
17F Parkview Tower, 248, Jeongjail-ro,
Bundang-gu, Seongnam-si, Gyeonggi-do,
Republic of Korea
(zip: 13554)
South Korea
About the company
Suprema is a leading global provider of access control, biometrics and mobile access solutions. Through a combination of world-renowned biometric algorithms and superior engineering, Suprema has introduced numerous innovations to the security industry over the past two decades. Suprema's extensive portfolio includes biometric access control systems, mobile access solutions, live fingerprint scanners, embedded fingerprint modules, and a robust web-based access management platform that provides time and attendance administration.
Founded in 2000
Suprema technology is used by more than 1 billion people
1.5 million systems in operation
Sales network covers 140 countries
Top 50 global security company over more than 10 years in a row
Product Categories
Access Control
Fingerprint readers for IT security
Access Control
Card Systems
Time and Attendance
Biometrics

Integrated Systems
Integrated Systems

ID Solutions
ID Solutions

Products
BioStar 2 (Access Control and Time and Attendance Management Platform)
Suprema BioStar 2 is a web-based, open, and integrated security platform that provides comprehensive functionality for access control and accurate time and attendance management. Featuring a modular and flexible framework, the platform offers customizability depending on the scale of each system, the number of users and the system structure used.
Embedded Modules / Kits/ SDK
Suprema is the top developer and producer of high-performance fingerprint modules featuring industry-leading quality and biometric algorithms considered to be the most accurate in the world. Suprema continues to develop the latest biometric technology and new modules that can be used across a wide range of fields.
RealScan Enrollment Solution
Suprema RealScan enrollment solutions are devices that directly scan and collect fingerprint or palm image data from live sources. RealScan solutions certified by FBI IAFIS Appendix F and CJIS Appendix P-certified have multiple input options from one, two or four fingers to palm prints for data capturing.
BioMini Authentication Solution
Suprema BioMini Authentication Solutions are devices that collect FBI/PIV-certified fingerprint images. BioMini solutions provide an advanced AI-based live finger detection technology that distinguishes real fingerprints from fake ones made with various materials including clay, rubber, silicone, glue, paper, film and more.
RealPass eDocument Solution (Full page Optical & RFID Passport Reader)
Suprema RealPass solution is a compact full-page document reader that offers unrivaled performance for high-volume processing. It features automatic document detection, single-step reading, a tunable RFID antenna and easy lay-on type scanning. The device processes both optical and graphical data from the page and reads RF chips with ICAO standard security protocols.
News