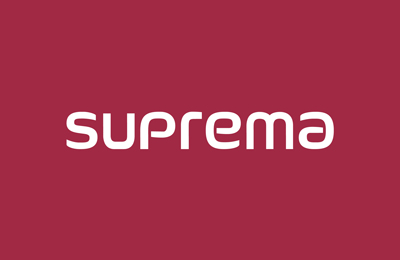 Suprema inc.
17F Parkview Tower, 248, Jeongjail-ro,
Bundang-gu, Seongnam-si, Gyeonggi-do,
Republic of Korea
(zip: 13554)
South Korea
About the company
Suprema is a global leader in biometrics and securities technology. By combining world renowned biometric algorithms with superior engineering, Suprema is able to continually develop and manufacture reliable industry leading products. Suprema's extensive portfolio of products include biometric access control systems, time & attendance devices, fingerprint/live scanners and embedded fingerprint modules.
Suprema supports worldwide sales network that spans across more than 133 countries around the world and was the first biometrics company listed on Korea's stock market (KOSDAQ 094840)
Founded on May 4, 2000
Sold over 1,500,000 fingerprint products worldwide
Last 4 years revenue growth rate of 20%(CAGR)
Market Capital of USD 381million dollars (KOSDAQ, 2020)
Product Categories
ID Solutions
ID Solutions

Access Control
Access Control

Products
Access Control and Time & Attendance
Equipped with world best fingerprint algorithm, Suprema's Access Control Solution has maximized the user convenience and security, by resolving the problems of other conventional Access Control Systems that apply RF cards or password keys that can offer diverse high-level functions at an affordable price, and it is built on a detachable control structure for easy installation.
Suprema's Access Control Solution utilizing the TCP/IP-based Internet network and offer from simple One-Door System to complicated network type Access Control System.
Suprema's fingerprint-based Time & Attendance system supports to eliminate Buddy Punching, or asking for fabricated overtimes, that helps companies to benefit from preventing loss of wages while improving work productivity.
Embedded Modules / Kits / SDK
Suprema is world's top high performance fingerprint module developer and producer. Modules are based on Suprema fingerprint algorithm that is considered best in the world and offers industry best accuracy and high quality. Suprema continues to develop latest biometric technology and applies to the modules that can be used in multiple fields.
Authentication Scanners
The latest development is the mobile fingerprint Authentication Solution, Suprema BioSign™. It is optimized iteration of Suprema's world best biometric algorithm developed for mobile devices to offer unrivalled recognition accuracy and ultra-quick authentication performance while accommodating multiple sensor sizes.
BioSign™ offers uncompromising security with highest accuracy that results in lowest error rate. Utilizing Suprema's special fingerprint techniques at each or the critical pre-processing, feature extraction and matching stages, it ensures highest level of security with ease of access through use of biometrics.
Enrollment Scanners
Versatile portfolio of ID Solution Products from Suprema.
Enrollment Scanners are devices that collects fingerprint images from AFIS systems. It directly scans and collects digital fingeprint data from live fingers. Suprema's enrollment scanners called RealScan Series, have multiple input options from single, double, four to palm prints. It is being used in multiple governments specifically a number of law and enforcement divisions.
Document Readers
RealPass-V, Full Page Optical & RFID Passport Reader
Fast & accurate passport processing is the key requirement for seamless operation at immigration checks. RealPass-V offers unrivalled performance for high-volume processing with automatic document detection, single-step reading, tunable RFID antenna and easy lay-on type scanning. The device processes optical and graphic data from data page, and reads RF chip with ICAO standard security protocols.
News