provides the most efficient and flexible smart site solution that allows owners to quickly master the situation of all construction sites, and has already been introduced to many construction companies for practical application.
Smart sites often need to control a large number of people and different work safety conditions, while ensuring site safety at the same time. The following three points are the core keys needed to form a smart site:
Automation: Using AI image recognition system to generate data automatically, saving a lot of manpower
Zone control: Use different IoT devices for zone control and integrate with access control management
System integration: Integrating different applications into a single platform, owners can receive the most comprehensive information
Through in-depth cooperation with the industry, AIRA believes that the challenges faced by smart sites are:
Integrating various access control systems with multiple cameras
In addition, the camera recognition system also requires multiple cameras in series, and each camera needs to do facial recognition in real time, which also tests the speed and hardware requirements of the AI recognition core, and finally, various site conditions need to be considered, such as no infrastructure. During this period, data transmission through wireless networks is required, and the front-end device is used for image processing before transferring the data to the back-end management platform.


Attendance, real name system and license management
In response to government requirements, daily temperature measurements are taken during the epidemic prevention period, and records are kept so that they can be accessed at any time when needed. In addition, traditional access cards are easily borrowed and cannot be used to track the identity of workers entering and exiting the site, and the workers need to repeatedly check various matters such as occupational safety cards, vaccinations, and good citizen cards during daily work, which often takes a lot of time.


Integrated site management
The headquarters need to know the construction and attendance of all sites in real time so that manpower resources can be flexibly deployed. What's more, the vehicle control, which requires the identification of both vehicles and personnel. Through the traditional paper records, it is easy to make an error.


Site-wide intelligent security system
When there is a crime happening, it takes a lot of time to review and edit surveillance footage to collect complete evidence, which makes it impossible to quickly grasp the path of suspects and whitelisted people and stop criminal intent immediately.

AIRA analyzes these problems and proposes an integrated set of smart site solutions

It includes personnel control, personnel tracking, vehicle management, digital fence system, time-lapse recording, and visual dashboards for headquarters. Personnel control includes facial recognition combined with access control system and temperature measurement, as well as verification of various documents, such as occupational safety card, vaccination, citizenship card, and the duration of the contractor's contract can also be controlled, the personnel situation in the work area can be mastered through real-time statistics of personnel entry and exit. In the part of vehicle management, vehicle license plate recognition and human-vehicle matching can be achieved, so that relevant personnel can handle the situation immediately; and digital fence system is to reduce the rate of misjudgment through AI image recognition, which can trigger audible and visual warnings and LINE notifications immediately. The visualization dashboard provides different statistical information for workstations and headquarters, which can see more comprehensive conditions, including various data statistics, such as abnormal events, the number of incoming and outgoing personnel and vehicles, etc. Through the integration with the enterprise internal system, it can also further observe the labor hours, the progress of the work area. Through the comprehensive function integration, the smart site can be introduced more quickly.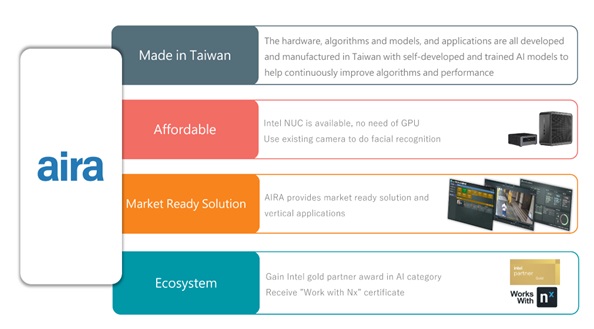 After importing AI architecture, we interviewed with the owner, and the site reduced its time by three times for identity verification and temperature measurement records at the time of work, which has significantly reduced the labor cost by 50%. Afterwards, the construction has also been introduced to more sites in Taiwan, and allowed employees to experience the determination of intelligent field transformation.
After deploying several construction sites, AIRA has mastered several key points. According to different management needs, workstations and headquarters can choose different dashboards to achieve intelligent management needs, and it is expected to make the work area a smart environment, and create a new generation of smart site management.
Click here to check more...