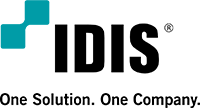 IDIS
1000 Great West Road
Brentford, Middlesex
TW8 9HH
United Kingdom
About the company
IDIS is a global security company that designs, develops, manufactures and delivers surveillance solutions for a wide range of commercial and public sector markets. Korea's largest surveillance manufacturer, IDIS is headquartered just outside Seoul and operates across 40+ countries and 100+ strategic partners and is a world leading surveillance solution provider with an annual turnover of $450 million, across all holdings, with more than 1.9 million recorders installed worldwide and over 15 million cameras utilizing IDIS technology.
The IDIS total surveillance solution meets the needs of an increasingly demanding security landscape. IDIS provides the benefit of an end-to-end, highest-quality surveillance solution at a low total cost of ownership. IDIS delivers innovation that is flexible and scalable, able to meet every surveillance need—all with unrivalled performance, quality, and low total cost of ownership.
Product Categories
Video Surveillance
Video Surveillance
CCTV

Products
DR-8364D
Enterprise-Level Performance at an NVR Cost
64 channels and Full HD real-time recording capabilities, RAID 1/5/10 and dual power, the IDIS DirectIP™ DR-8364D offers enterprise-level performance with a total throughput of 900Mbps, first class network security, and critical power and failover redundancy in a single NVR, managing both cost and complexity.
Smart UX Controls
IDIS Smart UX Controls present operators with an advanced and simple to use user interface. Compared with conventional PTZ controls, Smart UX Controls deliver super smooth PTZ operation including "Slingshot" and "Rubberband". Intuitive visual feedback enables users to easily pan and tilt images at different speeds and in different directions.
IDIS Super Fish Eye
IDIS Super Fisheye delivers 360-degree panoramic HD surveillance to give operators complete situational awareness without any blind spots. Featuring dual camera- and client-side dewarping (including via mobile devices), operators' are able to split the 360° view into smaller images such as entrance points or other areas that require close surveillance, while simultaneously retaining a panoramic view.
News