Conventional video surveillance systems often have vulnerabilities like weak default passwords and firmware flaws. Hackers can exploit these weaknesses, turning cameras and DVRs/NVRs into launchpads for attacks on the users' network, or to carry out remote DDoS attacks.
A cyber defence source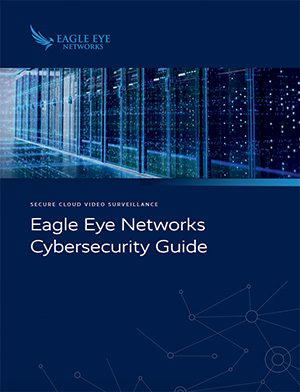 Protecting against these risks is crucial for network security, claims Eagle Eye Networks in their white paper, which can be downloaded from their website www.een.com.
"From the Eagle Eye Networks Cybersecurity Guide end users and others can gain invaluable information to fortify their digital defenses and make informed choices when it comes to safeguarding their organisation's assets", states Nova Ewers, EMEA, PR Marketing Manager for Eagle Eye Networks.
Average cost for data breach
Cyber criminals can attack an organisation of any size at any time. Criminals target any potential weakness to breach a company's network to access identity, payroll, credit card, and other critical data information. The frequency of both attacks and security breaches rises each year, and the associated costs rise, too. According to IBM's annual report on data breach costs, which analyzed security breaches on businesses of all sizes. The global average cost of a data breach is now over $4 million.
All connected system is at risk
Organizations of all sizes rely on a network of interconnected systems to operate, and any of those individual systems can present security weaknesses. A secure networked system eliminates as many risks as possible to protect the confidentiality, integrity, and availability (CIA) of the system and the data it contains, claims Eagle Eye Networks.
Many attacks
So network-connected video surveillance systems are not immune to cyber threats. For years, surveillance cameras and recorders have been weaponised by hackers to create Distributed Denial of Service (DDoS) attacks on targeted systems, impacting businesses of all sizes. The "Eagle Eye Networks Cybersecurity Guide" pinpoints several examples of seriously damaging data breaches that emerged from video surveillance systems.
Cloud solution perspective
Eagle Eye Networks is of course seeing a proper cloud solution as a better way to cyber secure a video surveillance system. They emphasise that traditionally video surveillance systems are built from general- purpose computers, network switches, routers, and firewalls that require highly technical configuration and ongoing, manual software and firmware security updates to operate as a cyber-secure system. Eagle Eye Networks further claim that "configuring a secure video surveillance system from generalpurpose equipment is a lot to ask of video system installers and customers — especially when there is an easier solution."
Demand more from manufacturers
Eagle Eye Networks states further that manufacturers of purposebuilt video surveillance products should step up to help customers to prevent cyber threat incidents.
"Rather than leaving cyber security as a problem for system integrators, installers, or customers, they can and should provide secure, preconfigured systems, because they designed and built the equipment and wrote the software that needs to be hardened", states Eagle Eye.
"Furthermore, a cloud-based video surveillance system, provided as a service, can and should include the continuing attention and updates that effective cyber security protection requires," comments Nova Ewers.
Eagle Eye Networks and cyber security
Eagle Eye Networks is considered as a very cyber security oriented company. Their Cloud VMS provides a purpose-built cloud video surveillance solution designed to reduce the risk of known vulnerabilities to surveillance systems. The subscription based VSaaS model delivers automatic security updates, and a team of experts are responsible for the ongoing cyber security of the cloud, helping achieve the highest levels of confidentiality, integrity, and availability (CIA) for surveillance video.
The Eagle Eye Networks approach
As a leading cloud video surveillance company Eagle Eye Networks adheres to rigorous standards to safeguard customer information. They've achieved SOC 2 Type 2 compliance and ISO 27001:2013 certification, ensuring alignment with recognised security protocols.
Furthermore, their Cloud VMS solution can also be employed with on-premises appliances, via Eagle Eye Bridges and CMVRs, to encrypt video data and connect securely to the cloud. The redundant cloud architecture also ensures system reliability. As well as: advanced encryption, user authentication, and data transmission security to protect video data.
Eagle Eye also offers multi-factor authentication and Single Sign- On. The cloud VMS prioritise customer data protection through encryption, support PINs, Privacy Mode, and audit logs.
Conclusion
The growing cyber attack threat on video surveillance underscores the need for robust cyber security. Organisations must stay vigilant, address vulnerabilities, and use secure solutions to protect data. That is why the "Eagle Eye Networks' Cyber Security Guide" is so important.