The newly-released eIVP-ADP-AI-D0000,  latest edge system based on 12th Gen Intel Core--Alder Lake P.  Pioneered among Intel Core processors for the hybrid architecture of P-cores and E-cores, the new chip design empowers eIVP-ADP-AI-D0000 by optimizing its workloads up to 1.29x gain in performance.
To maximize such computing power for easier AIoT deployments, eIVP-ADP-AI-D0000 is thus designed with multiple I/O ports, including dual video outputs, eight(8) DIO, eight(8) USB and four(4) Serial COM ports. For the benefits of low latency in data transmission, eIVP-ADP-AI-D0000 also supports high-speed network interfaces such as 5G and WiFi 6E. Installed behind the panels or POS machines with vesa mounts, this powerful computing system can realize an AIoT shopping solution, converting challenges into opportunities in the new era.
Smart Shopping in a Post-Pandemic Era
During the forecast period 2021-2030, as surveyed, the size of the smart retail market is expected to grow at a CAGR of 26.5%. Especially after the outbreak of Covid-19 until now, millions of people around the world have changed their shopping patterns. To avoid exposure risks on the physical environment, for example, consumers may have preferred to browse/purchase online, which also poses new challenges and opportunities to the retailers.
To convert many of these challenges to opportunities in the post-epidemic era, EverFocus hereby proposes an AIoT shopping solution with its latest Intel-based computing system, eIVP-ADP-AI-D000. Embedded with the 12th Gen Intel Core processor, eIVP-ADP-AI-D0000 is capable of high-performing AI for inferencing and machine vision use-cases, up to 96 execution units and Vector Neural Network Instructions (VNNI) on the CPU.
Besides, eIVP-ADP-AI-D0000 also delivers eye-catching visuals with up to 2.47x gain in 3D graphics performance under Intel Iris Xe Graphics Architecture. On this basis, eIVP-ADP-AI-D0000 helps to develop VR fitting rooms by analyzing and simulating the physiological data collected from the customers. As a result, the bespoke product recommendation can be delivered to the customers. Through an AIoT system optimized by Intel Deep Learning Boost and OpenVINO toolkit, eIVP-ADP-AI-D000 realizes a smart and personalized shopping experience for both the consumers and retailers.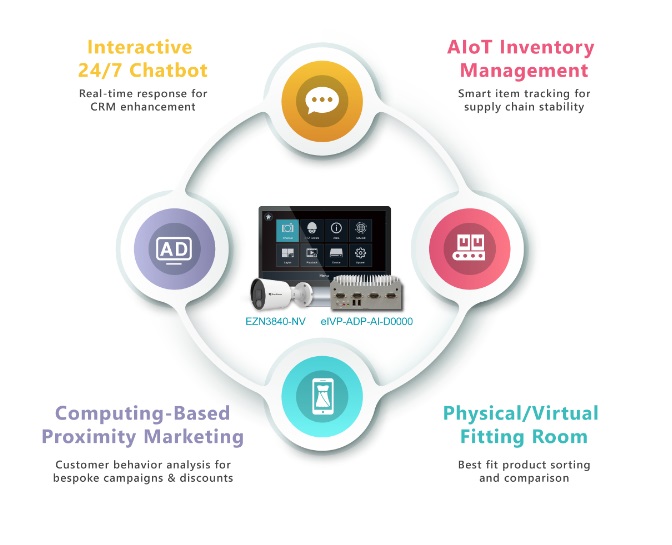 Online/Physical Store Integration
Smart shopping, a combination between traditional purchasing methods and "smart" technologies, is transforming the retail landscape. As a prerequisite to this evolution for real-time shopping and operation management, eIVP-ADP-AI-D000 supports a broadband network via serial COM ports and expansion slots, be it RS232/485, 4G/5G, Ethernet LAN, or wireless Internet. Deployed together with cameras and other sensors in convenience stores and retail shops, for example, eIVP-ADP-AI-D000 can collect non-confidential information from the customers when they step in.
As time passes by, AI applications installed in eIVP-ADP-AI-D000 can proceed to learn the route, demand, and preference of a customer, which helps the shop owner identify the display area of hot products, maintain supply chain stability, and optimize the pricing strategy. For a less exposure risks in a post-COVID era, this AIoT shopping solution can even foster another practice called BOPIS – Buy Online, Pickup in Store. After a click online, customers can even prefer to have their orders delivered to their homes. These have all successfully combined both the physical and online stores, which brings the retail industry to the next generation. Under this comprehensive network for data exchange and edge computing, eIVP-ADP-AI-D000 delivers actionable data and insights, leading to a seamless shopping/selling experience.
Shopping in a Metaverse: A Possibility?
With Intel Deep Learning Boost and OpenVINO toolkit, eIVP-ADP-AI-D0000 is capable of powerful visual search and parallel processing in high AI workloads.
With this AIoT solution deployed in a clothes store, either online or physically, the VR fitting room and 24/7 Chatbot can operate effectively under pre-trained AI models, helping customers choose the best items that suit them. As virtual/augmented reality is bound to be the future trend, EverFocus will continue to leverage its video analytics profession with Intel's technology for this trend, aiming to make 100% unmanned retail a reality. By revolutionizing the sensuous consumer experience as such, EverFocus strengthens business strategies and customer loyalty.  

More Information 
eIVP-ADP-AI-D0000
LinkedIn│YouTube│Facebook
AboutEverFocus Electronics Corporation
EverFocus provides diversified security solutions from front-end cameras, edge devices like industrial PC and back-end servers. The device's coverage includes IP, CCTV, vehicle, and access control systems. EverFocus has offices globally, including the U.S.A, China, Japan, Taiwan.
For more information, please visit www.everfocus.com.tw
\Contact Info:
Media Contact Global Brand Marketing
marketing@everfocus.com.tw