Traditional surveillance camera systems are facing increasing difficulties when they are used for modern vision applications. The legacy hardware and isolated platform design often lead to a long development cycle and relatively high deployment costs. In response to such challenges, Ability had set up a new Imaging System business unit several years ago focusing on the OEM/ODM business for AI-enabled smart camera systems and sensors in addition to its original business for camera modules and consumer imaging devices.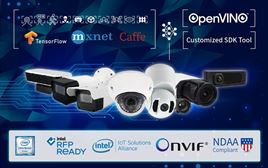 According to Jonny Wu, senior director and head of the new Imaging System business unit, Ability has been investing significant resources in the development of edge-computing AI cameras already for many years. These smart cameras have an integrated processing unit and hardware accelerators for deep neural network inferencing vision applications. For example, the Ability AI-Vue and AI-Cube cameras, both powered by an embedded Intel Movidius Myriad X VPU with full support for Intel Distribution of OpenVINO Toolkit, allow developers to quickly take a suitable AI model from its Public Model Zoo repository for rapid deployment, or to port their own algorithm onto the edge camera easily and quickly. This combination of Movidius VPU and OpenVINO toolkit help to deliver great deep neural network computing performance while reducing time-to-market for development and deployment.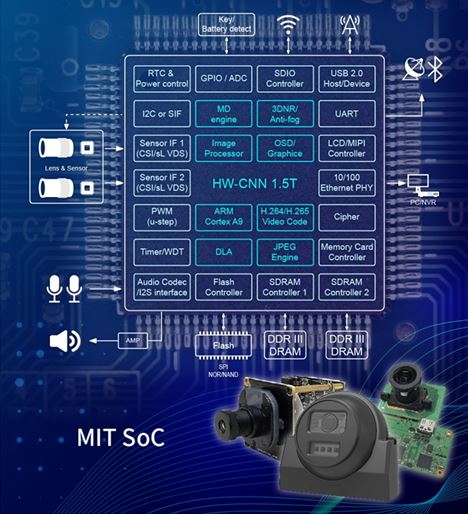 In order to provide customers with alternative platform other than Intel, Ability recently introduced AI-Eye series camera in its smart camera portfolio. This latest AI-Eye camera's ARM based platform includes a highly integrated SoC dedicated for 4K Edge-Computing IP camera applications requiring high image quality, low bitrate, and low power consumption. This powerful SoC platform integrates ARM Dual Cortex A9 CPU core, new generation ISP, H.265/H.264 video compression codec, high performance Deep Learning Accelerator hardware for AI, sophisticated graphic engine, display controller, Ethernet PHY, USB 2.0 Host/Device, audio codec, RTC and SD/SDIO 3.0, all of which provide customers with the best cost performance solution for AI enabled Edge-Computing applications.
Given the hierarchical system architecture and customizable software development toolkit, Ability's smart cameras are providing powerful platform with software defined functionalities such that different AI Models can be uploaded via Over-The-Air (OTA) and executed on the camera edge at any time. This innovative design concept also allows the business model of "AI-as-a-Service" to become technically possible and economically affordable to valued customers and vertical markets, while reducing the burden on the end-users from the perspective of upkeep and financing.
For many years Ability's smart AI cameras have been widely used in several different applications around the world. Just in recent years, Ability had partnered with VSBLTY Groupe Technologies Corp. (CSE:VSBY), a leading provider of security and retail analytics technology, and co- developed a first-of-its-kind high resolution camera with integrated inference logic particularly for smart retail and smart city applications. These smart cameras are currently being deployed in Benito Juarez, a borough of Mexico City, Mexico to improve public safety in the city. Deploying inference logic directly on cameras is an excellent way to provide powerful yet cost effective AI solutions for one of the world's most dangerous cities. Additionally, layering AI logic on top of the existing camera networks and adding smart cameras was an excellent way to increase the reach of the network.
In retail, cameras are used for operational visibility and for brand monetization. Cameras can also be used to measure the performance and audience measurement for digital signage – a new source of potential revenue for retailers. Jay Hutton, CEO of VSBLTY Groupe Technologies Corp. has also commented "Computer vision is uniquely equipped to anonymously measure audiences in physical spaces. Retails is evolving into a powerful and valuable media channel. Computer vision is critical to this as it is only through computer vision that consumer engagement can be measured in real time effectively. Our proven ability to run computer vision directly on the camera changes the unit level economics for this market."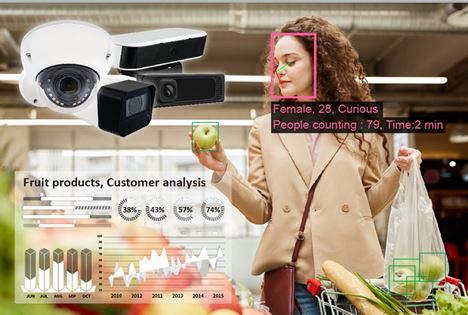 For retail users, edge-based smart AI cameras represent brand new business opportunities as they create efficiency on multiple fronts:
Operational: Fewer logistics, as cameras do not need to be complemented by companion computer.
Economic: An in-store retail camera network can be achieved more economically because the equipment needed to accomplish the task is reduced by about 40%. This is due to the diminished need for CPU/computers because processing of inference logic is done on board the camera. This also creates significant savings on bandwidth. Examples of algorithms/inference logic that can run on the cameras include people counting, demographics analysis, face detection, and dwell time.
As a Microsoft AEDP partner, Ability would be able to supply its powerful smart camera solutions to Microsoft's Azure partners for various smart retail applications. Furthermore, since Ability's full line of camera portfolio is already NDAA (National Defense Authorization Act) compliant, customers in the U.S can rest assured that the products they are getting from Ability will be in good hands.
In addition to VSBLTY in North America, Ability has also been working with another partner LED Vision in Malaysia to deploy Ability smart cameras in the ITMS (Intelligent Traffic Management System) system that provides services for automatic number plate recognition, electronic enforcement system, traffic light violation detection, speeding detection, video incident detection, automatic traffic counter and classifier, and adaptive traffic control, etc. This smart traffic solution was just recently rolled out in three phases as a joint project with the local government JKR Melaka and the UTeM university, and the validated field result from phase 3 surprisingly revealed that travelling time had been improved by 33.5% on average.
"It is imperative for end users and system integrators to consider the complexity and difficulty of the different scenarios that smart city and traffic applications often have to cope with," prompted by Jonny. For example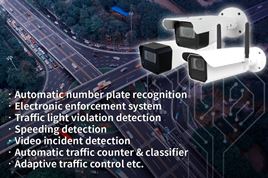 in the traffic monitoring application the cameras are normally mounted outdoors at a certain height, distance, and tilted viewing angle, where not only the camera robustness and maintenance readiness become an issue, but the quality and clarity of the captured image are extremely important for the AI functionality to work properly. In order to overcome these challenges, Ability had adopted several technology improvements in their smart AI cameras such as the best-in-class IP and IK rating of the camera housing, using a Sony Starvis 2MP image sensor with a 5-50mm 10X Auto Focus lens optimized for Ability's proprietary 3A algorithms and Super HDR Pro (HDR+WDR) feature, all of which have made Ability smart AI cameras ideal and ready for harsh weather and environmental impact as well as the constantly changing illumination conditions over time.
Back in Taiwan, Ability has been deploying its smart AI cameras for new applications and market segments including smart healthcare, public worker safety, smart parking and e-vehicle smart charging management. For example in the smart healthcare segment, there have been a number of public or proprietary AI models available for face recognition and to detect if a mask or PPE (Personal Protective Equipment) is properly put on. These safety monitoring features have become so popular and essential during the COVID-19 pandemic outbreak for places like healthcare institutes, public facilities, even working factories and construction sites.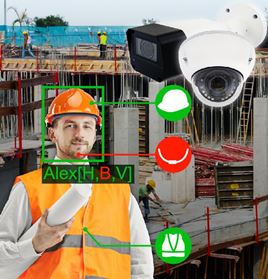 "The power of running AI application on the edge device is reshaping the future landscape for surveillance cameras and vision applications", concluded by Jonny. "The future is not edge-only or cloud-only, but a combination of both. The notion of a collaborative edge-cloud video analytics framework has been introduced by some of the world's largest solution providers including Ability. Successful systems integrators would have to be able to balance the processing load very effectively between the edge and the cloud for the best possible user experience. We are extremely excited to embrace this wave of technology breakthrough and looking forward to exploring all new possibilities every day."
For business cooperation and further support, please contact:
Jonny Wu
Mail: Jonny.Wu@abilitycorp.com.tw
Skype: jonnywu_vqti
Cell: 886-932734369