Power over Ethernet(PoE) is no longer a brand-new technology and its latest standard can provide upto 90w power. The same technology is applied for USB Type 3.0 and above for upto 100W power output. Thus two power and data have merged for Ethernet and USB as a reality.
The power "sockets" in homes and offices will be changed dramatically because data transceivers such as Ethernet and USB can already supply 100W of DC power, the boundaries between data lines and wires are disappearing.
As PoE and USB are available for power supply, PoE can be used to drive lighting devices, and USB can replace home sockets. PoE and USB also send and receive data, so it will drive the popularity of power management systems such as BEMS and HEMS. For example, an office socket will become an Ethernet-only interface with USB, and the office building that can power and transmit data is expected to be realized when connected. At home, "black appliances" such as televisions, CD-ROM devices and game consoles can also work with USB sockets. At restaurants, there are a number of USB connectors set up side by side for customers to charge their portable terminals.
LAN Ethernet applies the "Power over Ethernet" standard, which uses a single cable to send and receive data and power, and some uses such as IP phones, surveillance IP cameras, and wireless LAN access points are always being used. USB is used for keyboard, mouse and external hard disk and other personal computers set as the center, not only data sent and received, its power supply is also provided.
When remote office workers are shared for normal operation and future IoT application step-by-stpe deployed in the city cornors, PoE to USB adaptor is finally finding its place to work.
Yoda Communications here present two latest developments--PoE-USB-Combo and PoE-USB-JEDI:
The PoE-USB-Combo: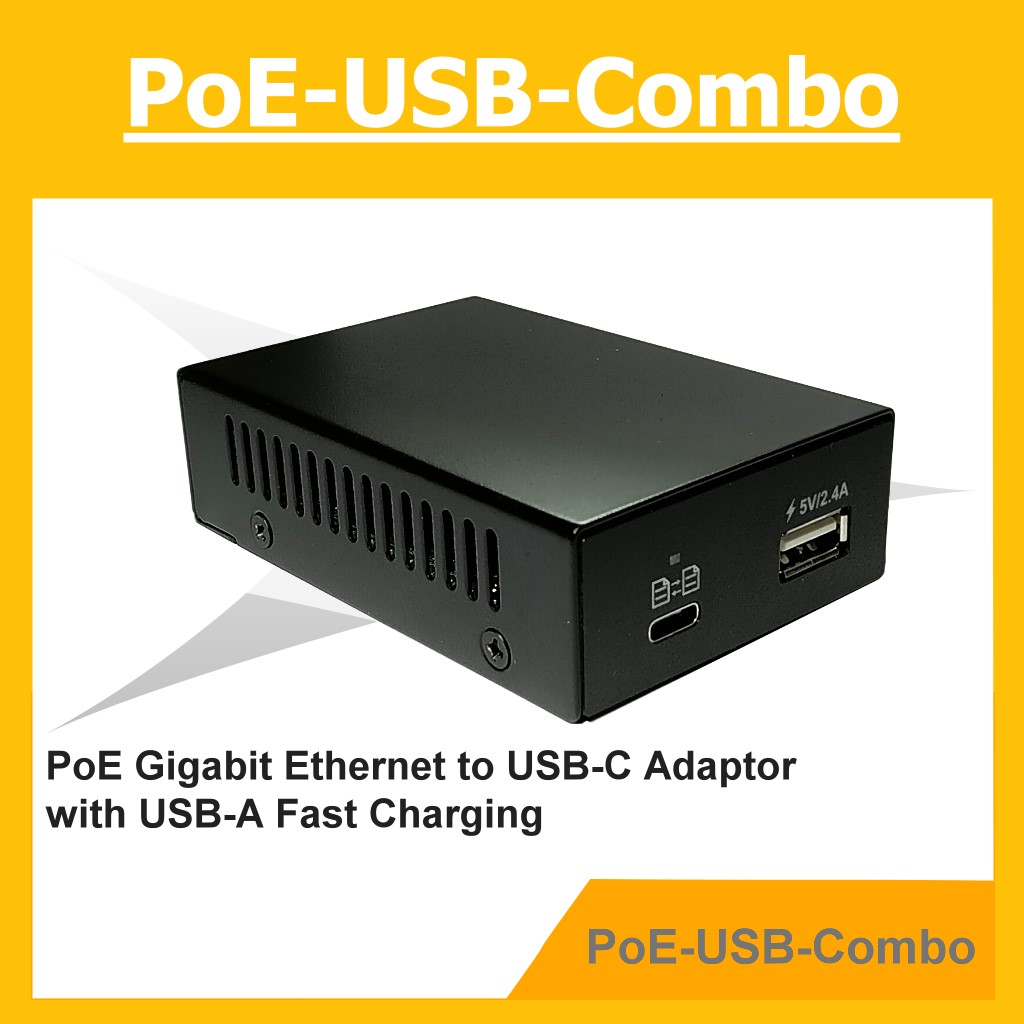 This is an adaptor for the PoE Gigabit Ethernet to USB Type-C (USB-C) connection, with additional USB type-A port for fast charging features. It allows the Notebook users with USB-C connector to have Internet access thru the PoE Gigabit Ethernet Switch, while providing fast charging port to charge mobile devices with PoE input power. With the features of plug and play, it is an ideal design solution for the mobile user in the office to access Internet through the PoE Ethernet interfaces, while charging up additional mobile device, such as mobile cell phones. |

For the Ethernet interfaces, the PoE-USB-Combo, as an IEEE802.3at/bt PoE PD device, is equipped with an RJ45 port for the 10/100/1000Mbps Gigabit Ethernet connection. It takes the PoE power up to 25Watt in a distance of 100meter away from the PoE Ethernet Switch, and convert into the power supplies for the COMBO system and the charger. There are 2 LED indicators; one for PoE power on, and the other for 10/100Mbps, or 1000Mbps data link/act indications.

For the USB-C interfaces, the PoE-USB-Combo provides a USB type-C connector with compatibility of USB3.0, 2.0, and 1.1 for super speed data connection. One LED indicator on the front panel is for the USB-C data connection and activity.

The fast charging capacity is compatible with many charging protocol including Battery Charge (BC1.2) 5V/1.2A, Apple 5V/2.4A, Samsung Galaxy 5V/2.1A.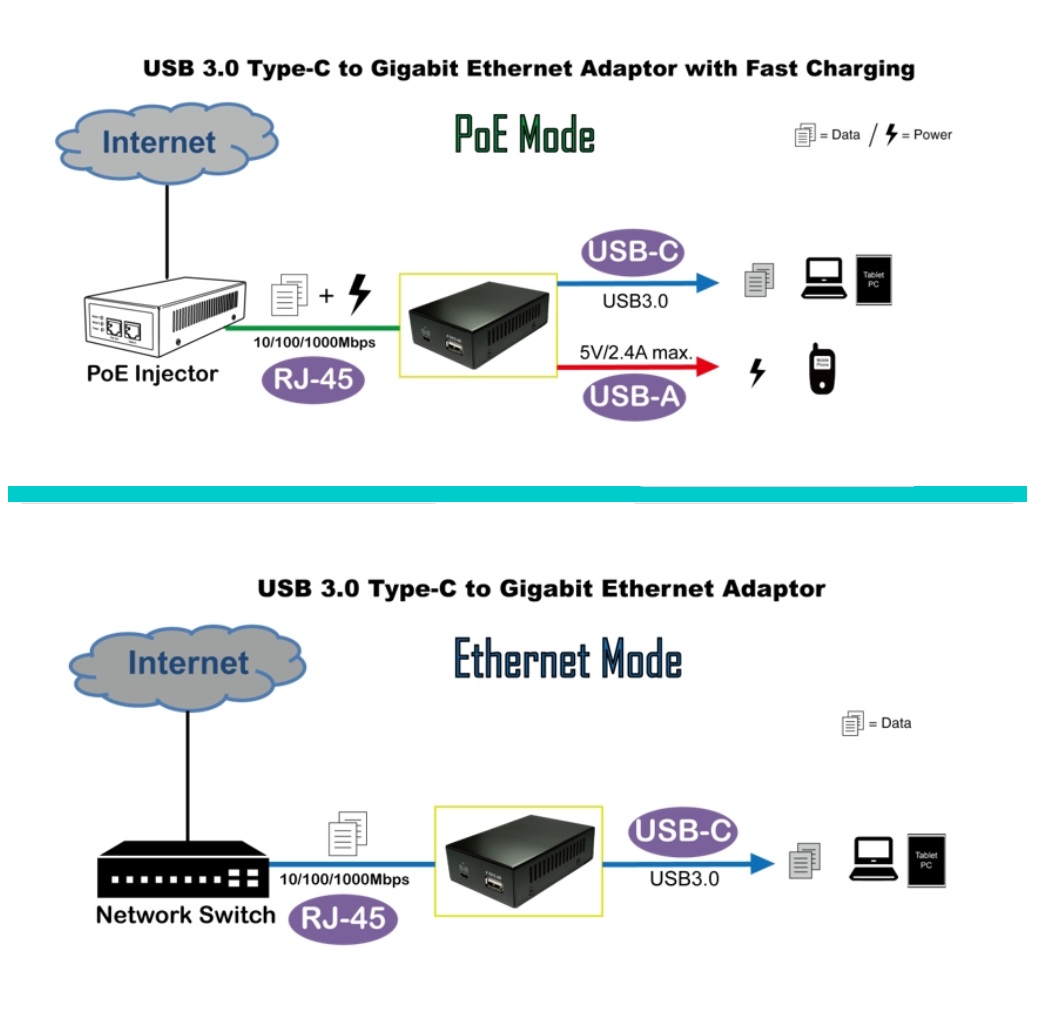 The PoE-USB-JEDI:


Based on the same technologies above-mentioned, the 4-port PoE to USB-C Adaptor/Charger features:
Plug & Play
Fast Charging
Safer Power Feeding
About  Yoda Communications
Yoda Communications, Inc. is established in 1999 with a team of 10/100G Managed Fiber Switch, 10G BT PoE switch, PoE to USB adaptor, 500-meter Long Reach Ethernet over Anywire (2-wire, coaxial and Cat5e), Industrial grade PoE injector/Hub/Switch/splitter, and VDSL2/SHDSL Router, engineering experts to design and manufacture for worldwide branded customers and telco buyers. Its production is fully followed ISO-9001 system for best quality control. All products are made in Taiwan facility. It is well-known as ODM supplier at affordable engineering budget, quick delivery and long-term trust-worthy partner for all kinds of business cooperation. For more information, please check and contact at:
- Website:  www.yoda.com.tw           
- Email:  long@yoda.com.tw