Detektor International
Detektor International is focused on the very latest technology and business within this field and even includes exclusive previews and reports from international security exhibitions all over the world.
Detektor International has a circulation of 10,000 copies. The majority of our circulation is achieved through distribution at international shows and security fairs in Europe, Asia, USA and South America.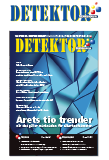 Detektor Scandinavia
Scandinavia's leading magazine in the security technology field - is geared towards the professionals within the security industry; installers, consultants, distributors, manufacturers, etc.The Scandinavian edition is distributed through 11,600 copies throughout Sweden, Norway and Denmark in a tri-lingual format.

SecurityWorldMarket.com
The online trade publication SecurityWorldMarket.com has been one of the most important industry information sources since its inception in 1998. It offers updated news and editorial content that reflects what is going on in the physical security industry market. This make the website a perfect tool for companies to reach out with their brand names, products and service concepts through online advertisements.
This unique online publication for the security technology sector offers news on seven market editions – Global, UK, Middle East, North America and the three Scandinavian security markets (Sweden, Denmark and Norway).
The key to the success of the website is the alert news reports and other industry specific content covering all these markets including important information on trends and developments within the security industry.
SecurityWorldMarket.com has maintained its market leading position throughout the years. With users from 230 countries each year, it is certainly one of the strongest brands for online advertisements within the professional security market.