As the number of cyber-attacks on IoT devices, including consequently on video surveillance systems, has been much more frequent then ever and has kept on growing at

an unprecedented rate worldwide. As there are about 35% - 40% of the total number of IP cameras were shipped from Taiwan and continually growing, the IDB, MOEA Taiwan (referred as IDB hereafter) has acknowledged the phenomenon and worked in hands with NCC (The National Communications Commission) to build the cybersecurity inspection and accreditation system as well as to promote the IoT Cyber Security policy.
In association with different Industrial Association, such as TSSIA, TIAISS, TTIA, TLLIA, Civil IoT Taiwan, …etc. to collaborate comprehensively, there are Cybersecurity Standards and Testing Specifications outcomes on IP Cameras, Video Surveillance system, Smart Buses, Intelligent Street Lamps, Miniature Air-quality Sensing Devices, Access Control System, and Mobile Application (App) up to now; and, there will be more to come in the future.
To implement the system of the policy, these Associates have helped their industrial players to develop new products with the latest standards to design-in. With nine (9) professional testing labs that being assessed and certified by TAF to inspect and exame these cyber-security in-design IoT products/devices from different industrial sectors, in order to compliant with the standards and ensure its quality on internet connectivity. Since the police announced to date, IDB with team members have coached more than 106 products of IP Cameras, Video Surveillance, and Smart Bus-stop signs from over 40 companies (such as, SECOM, VIVOTEK, Merit Lilin, Delta Electronics, Lite-On Technology, Kuang Yeu Medical, and HiSharp Elec…etc.) to pass the strict inspection and received its certificates. Through the IoT Cybersecurity inspection and accreditation policy, it aims at assisting manufacturers and companies to provide cyber-secured network-connectable facilities and devices for the usage at governmental agents, commercial/Industrial offices, and residential premises for a safer yet better managements and user experience.

In order to increase the adoption by Governmental Sectors, IDB has actively taken steps to promote the IoT Cyber Security Standards and Testing Specification becoming a part of the National Standars (CNS). The proposition for IP Cameras and Video Surveillance of the policy has been certified to be the national standard (CNS 16120-1, CNS 16120-2, CNS 16132-1, and CNS 16132-2), while regulations on other network-connectable devices are still pending in application. There are more than ninety (90) products/solutions today have passed the strict TAF-Labs testing, in compliance to the nation's IoT Cyber Security Standards & Regulations; they are made by the leading brands of Taiwan, such as VIVOTEK, GeoVision, Merit Lilin, EverFocus, Hunt Elec., iCatch, Acti, Brickcom, Hisharp, Huperlab, Fine,…that listed below. To learn more details about who are the top-5 brands/manufacturers that compliant to the policy, please click here.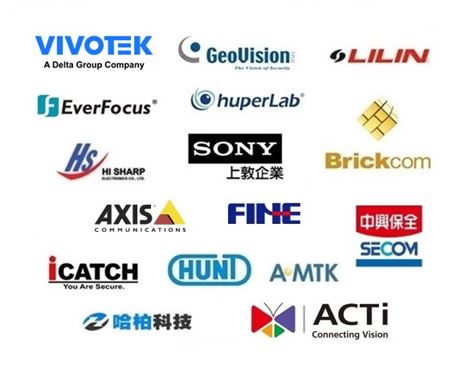 (These brands have products tested and certified  by the policy)
Because of these CNS standards, agents under MOT (Ministry of Transportation) have been instructed to purchase in certified IoT Video Surveillance system equipment via project tenders from now on. And, more requirements for video surveillance and Street Lamps, as heard, will be soon raised up by the Municipal Governments of Taiwan (such as Taipei, New Taipei, Kaohsiung, and Taoyuan…).
Based on the coaching experience accumulated in working with the project team members since 2018, TSSIA has been acting as a service window to provide counseling service and help its members as well as other Taiwan-based and/or overseas companies to comply with the standards for trade business worldwide and project assignments in Taiwan. If wish to learn about how to pass the standards and received certificates for entering into the market of Taiwan, please contact the TSSIA (below listed) for more information.
About IDB
The Industrial Development Bureau (IDB) is the administrative agency of the Ministry of Economic Affairs of Taiwan. The current Director General of IDB is BS. Jang-Hwa Leu.  In charge of national industrial development tasks, uphold the service spirit (core values) of professionalism, efficiency, initiative and innovation, IDB provides a full range of industry services based on the needs of the industry and commits to lead Taiwan's industrial innovation, upgrading and transformation, in order to actively coach manufacturers to strengthen their operations physique, improve productivity and international trade competitiveness therefore to enhance their capacity in responding to fast and comprehensive changes in the globe.
Official website: www.moeaidb.gov.tw