As the number of cyber-attacks world-wide on IoT devices and consequently on video systems has been much more frequent and is growing at an unprecedented rate, and, bearing in mind, the continually growing number of IP cameras shipped from Taiwan has reached a figure of 35% - 40% of the total number installed globally. The Taiwan government acknowledged the phenomenon and thus released the IoT cyber security standards and regulations. According to the regulations, there are eleven (11) professional testing labs being assessed and certified by TAF1 to assist customers (including governmental agencies) in supervision, ensure that networkable devices incorporate effective cyber protection and/or meet the nation's standards and regulations.
The IoT Cyber Security Standards and Testing Specification for Video Surveillance System Series (IoT-1001-1 v2.0—for IP Cameras, IoT-1001-3—for DVR, and IoT-1001-4 v1.0—for NVR) are said to be 72% compliant to the requirements of UL2900, according to the III (The Institution for Information Industry; one of the project team members of the policy), a think tank and R&D organisation for, the Digital Economy, Industrialisation and Talent Cultivation. The standards and regulations will be reviewed and updated under the supervision of III when any industrial feedback or market complaints are raised. The proposition for IP Cameras of the policy is certified as being the national standard (CNS 16120: IP Cameras), while regulations on other network-connectable devices are still pending in application.
Cyber security in IP Surveillance has been highlighted and recognised as a serious issue throughout the world, the policy will give impetus to the IP surveillance industry in Taiwan, enabling it to enhance its export business to the rest of the globe and also build a 'safe and reliable digital land' in the nation of Taiwan.
Based on the experience in working with the project team members (incl. III, ITRI2, TCA3, and TAF1-certified testing labs)) since 2018, TSSIA4 has taken care of a part of the policy promotion to act as a service window and provide counseling service to help its members and other Taiwan-based as well as overseas companies to comply with the standards for trade business worldwide and project assignments in Taiwan. Up to date, there are more than ninety (90) products/solutions that have passed the strict TAF-Labs test, in compliance to the nation's IoT Cyber Security Standards & Regulations. They are made by the leading brands of Taiwan, such as VIVOTEK, Geovision, Merit Lilin, EverFocus, Hunt Elec., iCatch, Acti, Brickcom, Hisharp, Huperlab, Fine,…and more.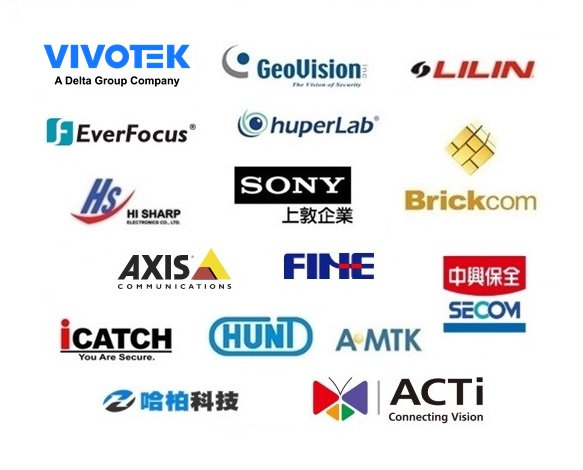 The top-5 brands/manufacturers that compliant to the policy and in number have received the certification among all are VIVOTEK, GeoVision, Merit Lilin, EverFocus, and Hunt Elec. To learn about these top-5 companies, please click here and check more.
If wish to learn more about who have passed the standards and received certificates are interested, please contact the Tssia for more information. The Tssia acts as the main contact for companies planning to do business with Taiwan, and that would like to submit their products for testing in compliance with the IoT Cyber Security Standards & Regulation.
__________________________________________
TAF1  The Taiwan Accreditation Foundation, is the only body in Taiwan recognised by the Government for the accreditation of conformity assessment against international standards. TAF is a full member of iLac-MRA. The ILAC Mutual Recognition Arrangement (ILAC MRA) provides significant technical underpinning to the calibration, testing, medical testing and inspection results of the accredited conformity assessment bodies and in turn delivers confidence in the acceptance of results.
ITRI2  Is the short form ofIndustrial Technology Research Institute.Founded in 1973, ITRI has played a vital role in transforming Taiwan's industries from labor-intensive into innovation-driven. Industrial Technology Research Institute (ITRI) is one of the world's leading technology R&D institutions aiming to innovate a better future for society. Founded in 1973, ITRI has played a vital role in transforming Taiwan's industries from labor-intensive into innovation-driven. It focuses on the fields of Smart Living, Quality Health, and Sustainable Environment. Over the years, ITRI has incubated over 270 innovative companies, including well-known names such as UMC and TSMC. In addition to its headquarters in Taiwan, ITRI has branch offices in the U.S., Europe, and Japan in an effort to extend its R&D scope and promote opportunities for international cooperation around the world.
TCA3  The full name of TCA is Taipei Computer Association. Its Mobile Application Security Alliance (MASA) has been assigned by IDB since Mar. 2021 to manage the standards policy operation and issue the Certificate of "the IoT Cyber Security Standards and Testing Specification.
TSSIA4  Taiwan Safety and Security Industry Association(TSSIA) was established since Jan. 2005 with supported by the Industrial Development Bureau (IDB) MOEA in Taiwan, being a bridge between the Government bureau and the industry for cross-domain integration in the Taiwan safety and security industry.
About IDB
The Industrial Development Bureau, MOEA is the administrative agency of the Ministry of Economic Affairs of Taiwan. The current Director General of IDB is Dr. Jang-Hwa Leu. 
In pursuing new economic growth momentum through innovation and structural reform measures has been a major direction for major nations in recent years; Taiwan is no exception. According to the World Economic Forum's assessment, Taiwan has now entered the stage of innovation-driven economic growth. As such, the government targets "innovation, employment and equitable distribution" for Taiwan's future development needs, and selected Five plus Two sectors, including smart machinery, IoT (the Asia Silicon Valley Plan), green energy, biotech pharmaceutical industry, defense industry, as well as circular economy and new agriculture as new economic models for sustainable development to create high-quality jobs, raise incomes, and truly realize equitable distribution of employment through innovation-driven economic growth. As mostly M2M (machine to machine) that internet connectivity required, the policy of IoT Cyber Security Standard and Test Regulation will be an fundamental base to fulfill the Five plus Two sectors development.
Website: www.moeaidb.gov.tw