The Kalay Platform was initially based on point-to-point(p2p) connection technology, integration of comprehensive cloud structure and scalable modular features, and real-time video transmissions to help businesses create opportunities with intelligent solutions.
Kalay, which means "Handshake" in the language of Taiwan's aboriginal people, is an extremely flexible and scalable IoT platform. The Kalay Platform 2.0 is designed with a new decentralized technology that provides seamless integration of devices and sensors, enabling technology brands, telecom providers, system integrators, and hardware manufacturers to easily deploy their own connected device ecosystems. The decentralized structure enables end users to enjoy a more convenient, secure, and flexible smart living solution.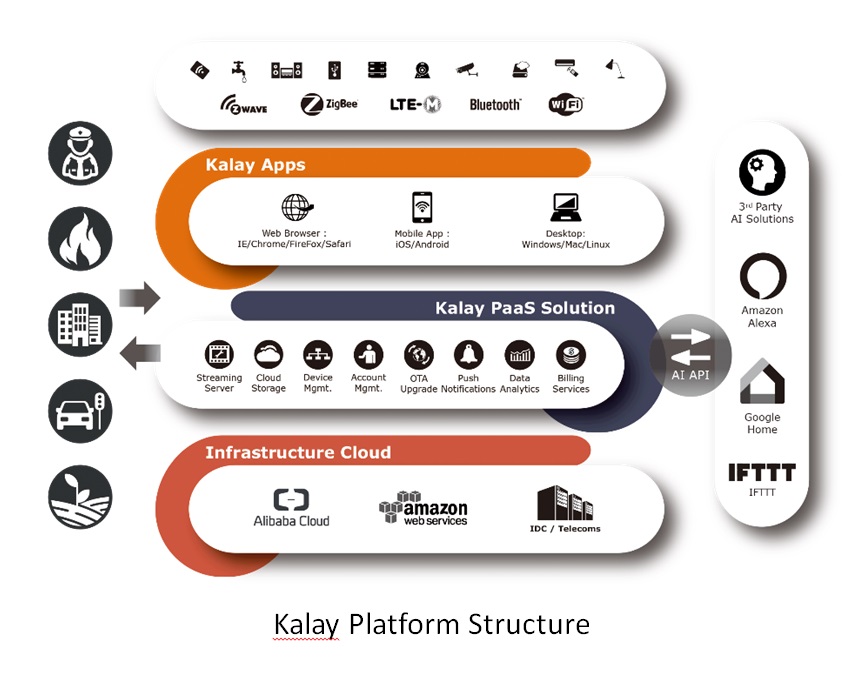 Creating Value for Your Business
The Kalay Platform delivers end-to-end solutions to meet fast-developing and changing IoT environment. With a strong focus on the technology builds for intelligent relationships and communication between devices, the Kalay Platform structure can easily integrate and expand your family of devices. The Kalay Platform empowers IoT consumer devices like no one else, enabling solution providers and technology brands to combine product offerings with cloud services.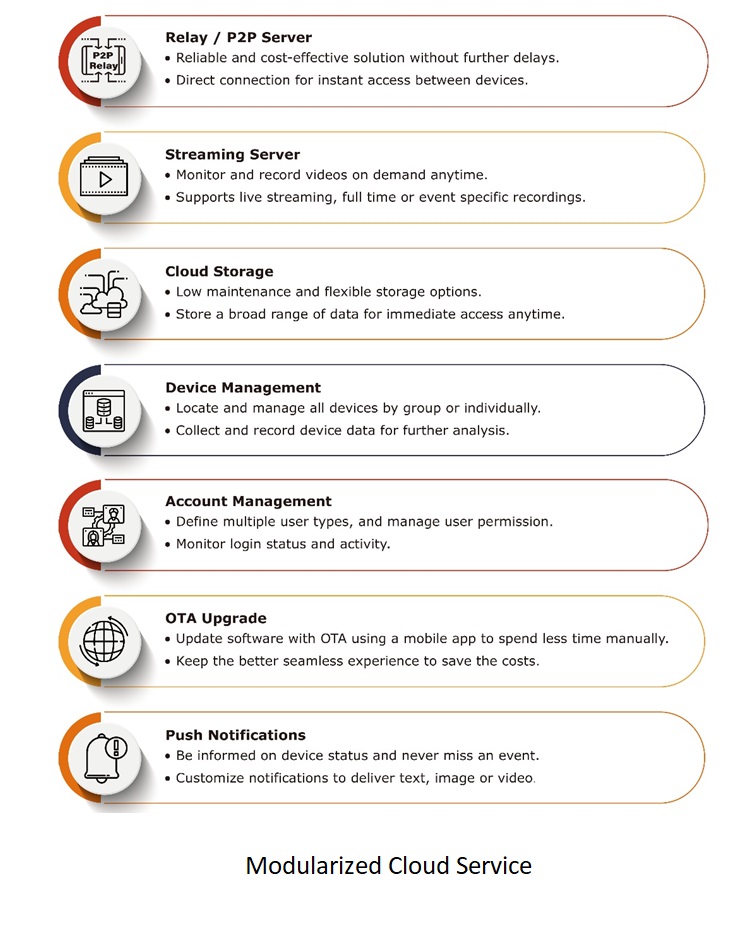 What is Kalay Platform 2.0
In 2019, the Kalay Platform upgraded to Kalay Platform 2.0 to simplify the pairing and communication between devices with a new decentralized technology architecture and protocol. It allows for greater flexibility and security between machine-to-machine connectivity. With main features as below:
More Smart
With the Kalay Platform 2.0 technology protocol, devices in smart home applications can easily interact with each other. It allows for greater flexibility and security between M2M connectivity. It also supports IFTTT, and is interoperable with voice assistant devices to provide end users a more convenient, secure, and flexible smart living solution.


More Secure
This newly developed decentralized structure simplifies the role of the primary server to work as an intermediary transmitter, which reduces the chances of a server being compromised or data being intercepted. Kalay 2.0 is designed using a two-factor UID and end-to-end encryption to support multi-factor authentication and dynamic key-pairing, the new solution ensures protection for the end-user's data and transmission.

Aside from offering a wide range of modularized functions, Kalay Platform 2.0 can also operate with third-party services such as AI-based image recognition tools. It can also integrate different functions of various hardware devices, and sensors for a variety of application scenarios. Regardless of their brands or communication protocols, the devices can receive and execute user-defined commands efficiently, so that users can conveniently enjoy security, convenience, and flexibility that smart solutions can bring to their lives.



Video Surveillance as a Service Solution
State of the art surveillance solution made easy for quick setup to connected camera devices and improved protection with advanced monitoring. With security designed for home or business owners and retailers, peace of mind extends beyond monitoring with remote control, event captures and instant alerts to deliver smarter protection around the clock.



Flexible Plans for Security Reassurance
Know what's happening at all times. Monitor and record with Kalay VSaaS for support of full-time or event recordings with an intuitive account and device management interface.


Live Streaming Service
Cost-effective solution with concurrent connectivity. Directly connect to devices to monitor different end points without delays.


Cloud Recording
Full-time and event-based recording plans for 7 or 30 days. Capture 30-second footage for abnormal activity. Continuous recording with event tags to store motion detection events.


Seamless Experience for Remote Surveillance
Simple plug and play solution to instantly access camera devices. Watch live streams or video recordings on an intuitive interface dedicated for effective security management.


AboutThroughTek
Established in 2008, ThroughTek Co., Ltd. is a leading IoT (Internet of Things) total solution provider for cloud connection platform, originally focusing on integration of cloud connection into surveillance systems. Since 2012, ThroughTek has been applying its leading connection technology to support enterprise entry to IoT markets with the Kalay Platform.
The Kalay Platform is an end-to-end IoT solution and software service, enabling solution providers and device manufacturers to easily create their own IoT ecosystems. With an extensive partnership with OEM/ODM, technology brands, and integration support from a growing variety of SOCs, the Kalay Platform provides rapid deployment for a variety of devices. Complemented by exceptional modular features including video transmission, cloud recording, automation and data analytics, Kalay seamlessly integrates IoT managed services for products, including IP camera, appliance, consumer electronics, wearables, storage device (NAS), and set top box systems.
With a comprehensive cloud solution, ThroughTek helps enterprises build and design scalable IoT services to maximize business opportunities and enhance customer experiences. Looking forward, ThroughTek is cooperating with IC design companies, telecom operators, and home appliance manufacturers for continued implementation of vertical integration into the marketplace.
For more information, please check on www.throughtek.com, or contact Overseas Sales Manager (Ms. Christine Liao) @ email:  christine_liao@tutk.com.