WHO suggests that one effective intervention to address traffic issues is to design safer infrastructures and incorporate road safety features into land-use and transport planning. Thus, implementing intelligent solutions like the Dahua Traffic Management Solution is of paramount importance to help ensure road safety at all times.
In our previous blog, we presented an overview of the Dahua Smart Traffic Management Solution and its two fundamental highlights. The first aspect of this solution – Traffic Enforcement – offers an array of intelligent detection systems that can accurately capture various kinds of traffic violations on the road. Here are some the traffic violations that this solution can detect:
For intersections and crossroads
This solution provides detection for pedestrian crossing, illegal lane changing, disobeying road direction signs, and parking in bike lanes. It also offers detection of the two most common traffic violations: overspeeding and running red lights.
Amongst all the causes of traffic accidents, overspeeding has been the most common and predominant. In high-income countries, overspeeding contributes to about 30% of traffic-related fatalities, while it accounts for about 50% of road casualties in middle-income countries.
The Dahua Smart Traffic Management Solution has cameras equipped with automatic number plate recognition (ANPR) technology that capture both the plate number and time from the beginning to the end of the detection zone. The information are then transferred to the DMSS platform to evaluate the average velocity of each passing vehicle. The recommended distance is 2-5km, which yields to 99.8% accuracy rate. The margin of error decreases as the length of the detection zone increases.
What's more, to make it easier and more convenient for users, Dahua offers portable and fixed installations for both point speed detection and section speed detection, allowing traffic personnel to move to different road points if necessary.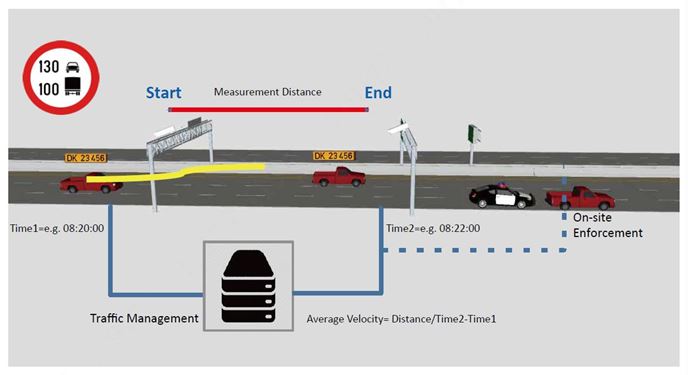 Illustration of Section Speed Detection of Dahua Smart Traffic Management Solution (fixed installation)
Moreover, red light enforcement, needless to say, is a crucial element in traffic management, with statistics suggesting that every year, 21.5% of all traffic accidents are caused by motorists running red lights.
At present, most red light enforcement solutions involve the use of underground sensors which carry various disadvantages (e.g. need to dig the ground to bury the sensor). Dahua's Smart Traffic Management Solution, on the other hand, centers on video. At the core of this solution is a system that synchronizes the status of red light signals with the trigger signal of the camera. When a violation occurs, Dahua cameras like the ITC952-AU3F-LZF1640 model takes three images of the violation to be used as evidence: vehicle license plate, status of traffic light and an overview of the scene. The DSS management and storage platform collects these data from each camera and distribute them to client operators for further processing. Edge storage devices ensure that data are saved even when a power failure occurs.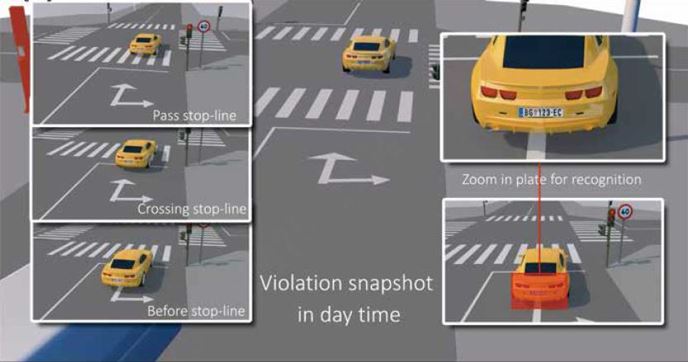 Illustration of Red Light Violation Detection of Dahua Smart Traffic Management Solution
For highways, flyovers or ramps
Observing proper speed and driving behavior is a must, especially on critical zones like national highways, flyovers and ramps. The Dahua Traffic Management Solution has just the right set of intelligent tools to help in traffic enforcement. Aside from detecting overspeeding and red light violation, this solution can also detect phone using while driving, unfastened seatbelt, disobeying traffic signs, occupying emergency lanes, illegal lane changing, counterflowing, etc.
This solution supports multi-tracking of up to 6 vehicles at the same time, with detection range of 3m-100m and monitoring range of up to 4 lanes. And for scenarios that require long distance detection, it offers a 28MP dual-lens traffic camera with monitoring distance of up to 80 meters.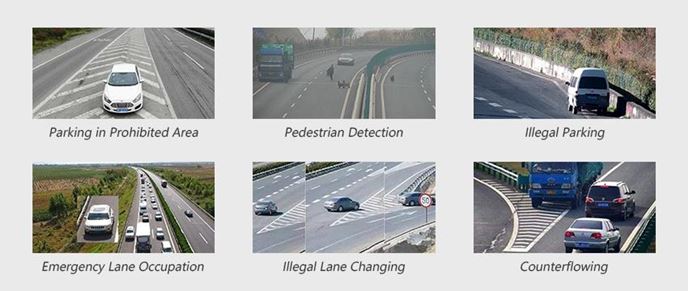 Some of the most common violations on highways
For urban areas
The Dahua Traffic Management Solution also provides Large Truck Detection that can identify trucks that are forbidden on the monitored area ("red zone") based on weight and dimension, as well as specific time period. It also offers Helmet Detection, which can help ensure wearing of safety helmet while driving motorbikes.
In addition, illegal parking can also be detected from up to 200m (diameter) with only 16m blind spot area. To know more about this technology, check out this previous Dahua Blog article about the 5 benefits Illegal Parking Detection.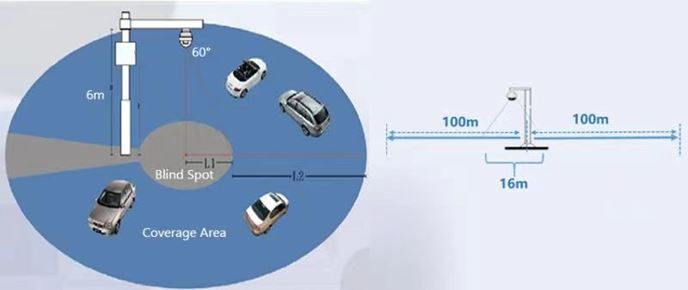 Illegal Parking Detection of Dahua Traffic Management Solution
Global Applications
A city in Mongolia faces increasing number of vehicles, which lead to a plethora of traffic challenges like lack of license plate recognition system, quality technical support, and cost-effective traffic solution. To help the city improve its traffic management, the Dahua Smart Traffic Management Solution were implemented, featuring violation detection, ANPR system, speed measurement system and command and control solution for their traffic center. Altogether, Dahua has installed ANPR systems on 28 roads, violation detections at 8 junctions, as well as 2 mobile speed measurement systems and 15 high-spot PTZ surveillance cameras.
Furthermore, in Indonesia, a study has revealed that 61% of the people who were killed in road accidents were riders of two- or three-wheel vehicles. Not wearing helmet and triple riding are the main causes of fatal accidents. Wearing a standard motorcycle helmet correctly can reduce the risk of death by almost 40% and the risk of severe injury by over 70%. The Dahua Smart Traffic Management Solution were deployed in the country to accurately detect riders who are not wearing a helmet and those carrying multiple passengers at the same time, helping to prevent accidents and to ensure road safety.
Up Next…
After discussing the Traffic Enforcement part of the Dahua Smart Traffic Management Solution, next week we will tackle the other aspect of this solution – the Signal Control and Traffic Flow Optimization – and how it can reduce traffic congestion and enhance traffic management.
About Dahua Technology

Zhejiang Dahua Technology Co., Ltd. is a world-leading video-centric smart IoT solution and service provider. It has more than 18,000 employees, of which over 50% are engaged in R&D. The company has deployed its products, solutions, and services in 180 countries and regions, covering key industries including smart city, traffic, retail, banking & finance, energy, etc. Since 2014, Dahua Technology has been estimated to be the world's second largest supplier of video surveillance equipment, and has been ranked 2nd on the a&s Security 50 list for 4 consecutive years. Committed to technological innovation and investing approximately 10% of its annual sales revenue in R&D, the company continues to explore emerging opportunities based on video IoT technologies and has already established businesses in machine vision, video conferencing systems, professional drones, smart fire safety, automobile technologies, smart storage, robotics, etc., enabling a safer society and smarter living.

Visit www.dahuasecurity.com to learn more and follow us on social media as below:

     Facebook:  Dahua Technology                   
     Twitter:  Dahua Technology
     Youtube:  Dahua Technology Channel     
     LinkedIn:  Dahua Technology Co., Ltd.