According to a study by industry research firm Strategy Analytics, in 2019, global consumer spending is nearly US$8 billion on smart home cameras (including video door intercom). The market is forecast to reach nearly US$13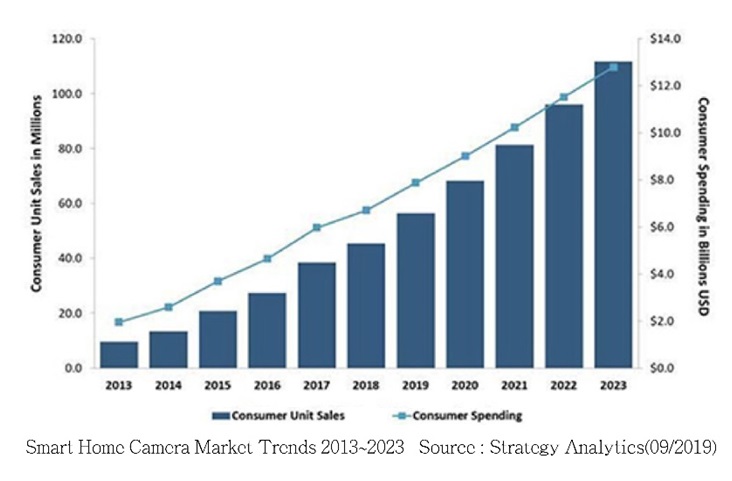 billion by 2023 and the annual compound growth rate will reach 14%. IoT technology applied to home detectors can immediately notify to residents through mobile phones. It also makes the smart detectors related products in the market are getting more.
The e-commerce giant (Amazon Ring) is quickly expanding into the home security market with a WIFI doorbell product. Traditional security companies charge monthly fee for security service to house owners. In the era of the Internet of Things, the cloud services is gradually being replaced this consumption model in the U.S. security industry and the market share of traditional security companies is declining. There are also many manufacturers in the market who have joined the development of smart door intercom products and have also added security features to their door intercoms system. Such as access recording, motion detection recording, tamper alarm, remotely control door lock...etc. These cloud notifications help peoples to get the situation to reduces the chance of home burglary. According to the study, communities that use Wifi door intercoms are 55% less likely to have burglaries in their homes.
Gainwise Technology has chosen to develop a 4G door intercom with a 4G mobile network. The 4G door intercom requiring only a SIM card does not require Wifi, regardless of the distance between the door intercom and the router, and regardless of wiring costs. All of these will allow the equipment to function properly. In addition to the door intercom function, it also provides access control, surveillance, anti-theft and open-door control.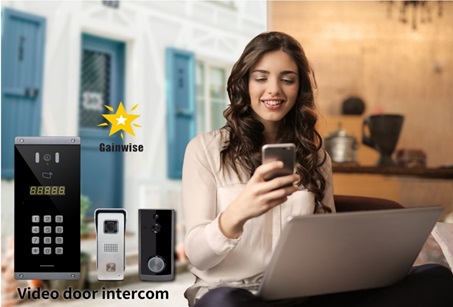 Conventional smoke detectors only sound an alarm and cannot be used to notify users who are not at home. Smart Smoke Detectors are connected to the cloud, which is different from traditional smoke detectors and can deliver emergency notifications to residents' mobile phones via the Internet to reduce property damage. For modern civilized society, the Internet of Things is a product worth developing. Although the WIFI smoke detectors on the market are easy to install but WIFI is quite a power-consuming and is not suitable for battery-powered smoke detectors. Also, the WIFI network will be interfered by many interferences in the frequency band, which is not a stable network. Notifications will not be received when WiFi disconnected network. Therefore, some advanced companies such as Gainwise Technology have developed LTE smoke detectors, which are not only stand-alone versions but also have Smoke Hub version with RF interconnection technology. The stand-alone version of the 3G/4G Smoke Detector sends SMS messages and dials the user's mobile phone number immediately in case of alarm. The Smoke Hub version of the 4G Smoke Detection System, which can detect dozens of smoke detectors through the RF transceiver with star chained together. The Master host integrated with 4G module notify users over a 4G mobile network when it receives alarm from any slave smoke detectors.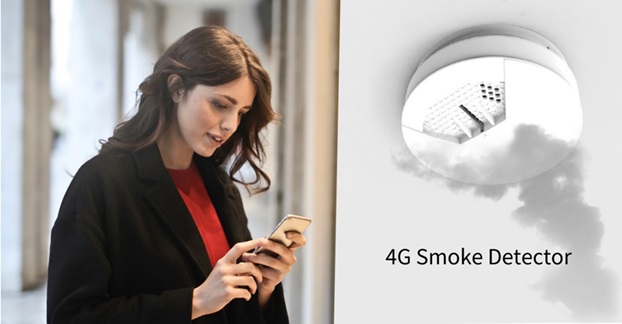 Although the WIFI door phone and the WIFI smoke detector can communicate and notify through the network, otherwise if the network is disconnected doorbells and smoke detectors don't work at all. However, Gainwise Technology believes that smart door intercoms and smoke-detectors need to be used in a more stable network environment. Gainwise focuses on the development of 4G mobile network products especially in door intercoms and smoke detectors. In the upcoming 5G era, the company has already invested in product development, which is worth noting.
How stable is the network quality of Wifi router?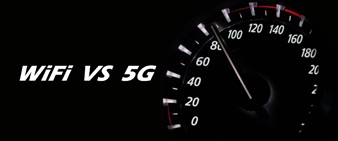 Although the application of Wifi door phone improves home security and convenience, it still has shortcomings. The biggest problem comes from the home router. Many IoT products on the market, such as smart smoke detectors, smart door intercoms and smart surveillance cameras, need to use Wifi, however, the quality of routers on the market is uneven. Once the router in the user's home is down, all IOT devices are completely shut down. These events always happen in life, and also seriously affect the IOT product experience service. GSM mobile networks have been around for over 30 years and serve over 10 billion subscribers, making stable 4G networks the preferred choice for IoT.
The communication network (4G & 5G) provides a stable network quality
With the explosive growth of communication network technology and low cost of ownership, most IOT devices are directly integrated with 4G & 5G mobile module. The advantage of mobile module is that you don't need to worry about whether the router is working or not, and you can directly connect to the 4G base station. Another advantage of a 4G network is that the device can be installed at any location where there is reception. Gainwise has focused on developing mobile networking products for more than 20 years. The application of 3G, 4G and even 5G module products, starting with GSM, many excellent products have been developed, in addition to 4G Video Door Intercom, 4G Smoke Detector, and many more products like 4G FWT,4G opener (door controller), which provides a better experience and service than WifiI's products.
aboutGainwise
Gainwise, an solution company, is specialized in designing communication products. All engineers at Gainwise have over 12-year industrial experience in designing GSM/3G module embedded products. The products are including GSM FWT, GSM gateways, 3G FWT, 2G audio door station, 3G video intercom, 2G/3G Door opener, M2M, GPS vehicle tracking system and more.
Gainwise is not only focus on designing and manufacturing our communication products, but also provide solutions for industrial clients and business partners. The successful cases are: Car Immobilizer with Alarm, Remote Anti-thift car alarm system, touch dimming switch system, LED strobe lamp and wireless power heated controller...etc.
For more information, please visit the Gainwise Technology Limited website, or contact us at:

     Gainwise Technology Co., Ltd.
     Email: gainwise-sales@gainwise.com.tw
     Tel: +886-6-3127675