New generation uTouch X
Intelligent terminal for access control and general purpose
With Android 5.1/Linux OS and quad-core processor, the uTouch with its innovative technologies becomes a new flagship product that perfect for general purpose applications from access control, daily attendance, workforce to loyalty member management.
The Android 5.1 uTouch with 7" touch screen is fully configurable and customizable on friendly GUI to meet extendable applications in faster speed and high compatibility. It is ideal for your turnkey solution on various applications and occasions.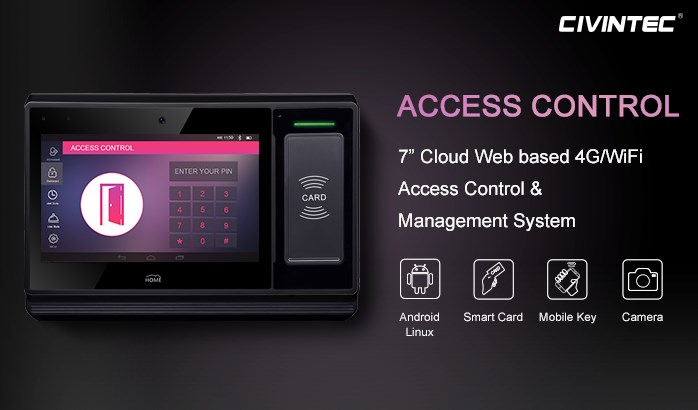 CRYSTAL TOUCH OSDP Access Control Reader
CRYSTAL TOUCH Series is stylish and modern Linux based 3.5" touch screen reader configurable with touch pin code, display any logotype or image, with IP65 ideal for outdoor use. It supports NFC and BLE for mobile ID credential, and dual 125 KHz & 13.56 MHz AES encrypted smart card. It's with wiegand, RS485 OSDP to work with the most brands of controllers on the market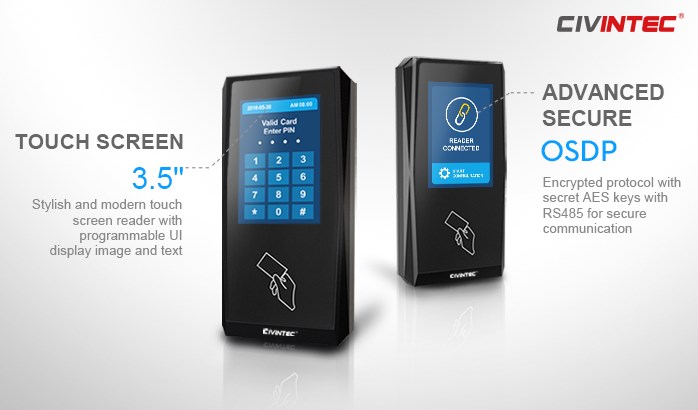 CRYSTAL TOUCH IP Access Control Terminal
CT9 is stylish and modern Linux based 3.5" touch screen reader, supports dual 125KHz & 13.56MHz AES encrypted smart card, NFC/BLE mobile ID and Pincode. With embedded webserver, TCP/IP & relay output, CT9 is IP online reader to get/post commands to customer's cloud server and build Cloud server managed system. Under network mode, CT9 read smart card ID/Mobile ID or pin code and send to server to identify in server database, if ID/pin code is authorized, server will send command to reader relay output to open door lock. When network is disconnected, CT9 can work as standalone to store 2000 user cards and 100,000 events.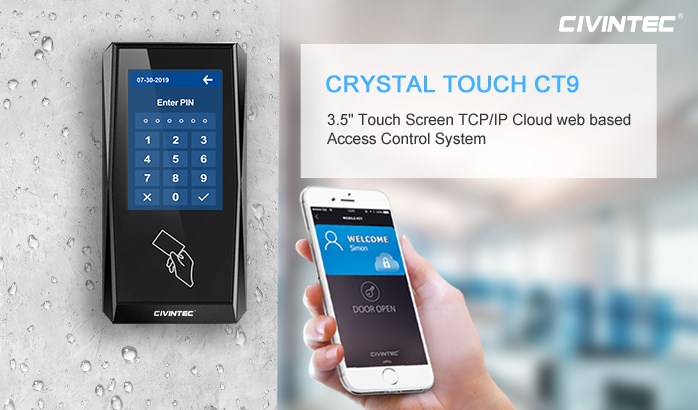 (Below, a short video demonstrates the CRYSTAL TOUCH TCP/IP LINUX-OS terminal with real-time monitoring capability for advanced security in application.)
By incorporating innovative technologies, the new uTouch and CRYSTAL will greatly improve your security system to much intelligent with the following functions:
Cannot be copied by advanced secure smart card, as featuring DESFire EV1/EV2 and one or more ISO7816 SAM slots for secure data encryption.
Using biometric identification technology which supports ISO19794-2 and ANSI 378 template, 256-bit AES fingerprint data encryption to guarantee the reality of authorized person.
Support mobile credential through ISO18092 NFC and BLE (Bluetooth low energy) to use mobile phone (workable for both Android mobile phone and iPhone)and receive online credential
Support pin code in fixed, one-time or random for easy management.
With auto-focus camera in high resolution to record all the images of people entering
Protect against tampering with SMS message alarm in real time
Open Supervised Device Protocol (OSDP), TCP/IP, WiFi 4G make more advanced secure and flexible communications
about CIVINTEC Global
CIVINTEC is a world-leading designer and manufacturer of smart card terminals and devices, established in 2006 and focusing on R&D. We are exporting to over 100 countries and areas. The company brand CIVINTEC is worldwide registered. The head office is located in Shenzhen China. To be even more available, CIVINTEC opened the first branch office in Europe, Stockholm Sweden in January 2016. CIVINTEC Europe AB will focus on Europe and North American market. Since years we have many clients in this region and with help of the European company we will now be even more available for our clients in those regions.
We are aiming to become the best technical service company in the world on designing and manufacturing of smart card reader devices. CIVINTEC provide cost effective OEM/ODM technical services for product customization based on a technical platform designed to support all kind of RF-ID and interface technologies. We design products with state of the art technologies to cater to clients' requirement and to make them competitive and advanced on the market.
Check more information at www.civintec.com.