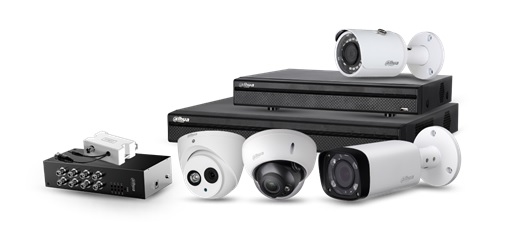 Dahua has launched a whole package of new products based on PoC, including various types of HDCVI cameras: 2MP Starlight HDCVI-PoC IR Bullet Camera, 2MP Starlight HDCVI-PoC IR Dome Camera, 2MP/4MP HDCVI-PoC IR Bullet Cameras, 2MP/4MP HDCVI-PoC IR Eyeball Camera); back-end recording devices  and transmitters. More details, please refer to the Product Line below-stated.
A star product of camera in the package, DH-HAC-HDBW2231R-Z-POC, adopts 1/2.8" 2Mp Starvistm CMOS image sensor and 2.7-13.5mm motorized lens. Boasting advanced technologies of Starlight, 120dB true WDR and 3DNR, it is able to capture vivid images in extreme low light or high contrast conditions. The PoC camera supports both PoC and DC12V power input. In order to further facilitate system deployment, this model is designed with a power output port which can supply power for nearby device. . Strong enough to withstand impact up to level IK10, It features an IP67 rating and certifications include CE, FCC and UL.
Another star one is the DH-HAC-HFW1400S-POC. Equipped with 2.8/3.6/6mm fixed lens, this camera supports high resolution of 4MP. It also features an IP67 rating and is certified by CE, FCC and UL. A similar model DH-HAC-HDW1400EM-POC is a long IR range (up to 50m) variation with basically all the traits of DH-HAC-HFW1400S-POC.
Dahua also delivers DHI-XVR5000-4KL-8P/16P, the 8/16 Channel 4K HDCVI PoC XVR. All channels of this recording device support PoC camera and HDCVI/AHD/TVI/CVBS/IP video inputs. Its PoC supplies 48W in total and 12W for each channel. It can do H.264+/H.264 dual-stream video compression and smart search and boasts an intelligent video system transmitting signals of audio and alarm via coaxial cable.
Dedicated to serving customers and users better, Dahua keeps its high investment in R&D. The release of HDCVI-PoC products showcased Dahua's fulfilling of its mission, which is to enable a safer society and smarter living.
HDCVI-PoC Product Line:
*Product launch date might be vary depends on countries.
Visithttp://www.dahuasecurity.comand Follow Dahua onFacebookandLinkedIn.