Vaidio solutions are deployed with over ten thousand cameras worldwide in perimeter security, intrusion detection, access control, LPR, and FR applications. Additionally,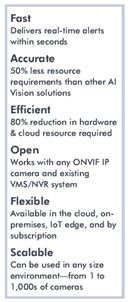 Vaidio Social Health Analytics for public health screening, temperature detection, face mask detection, distancing detection, people counting and occupancy detection are currently in production in a number of transit, manufacturing and airport facilities worldwide. The goal of the Vaidio AI Vision Platform is to apply cross-functional AI analytics to help make the world a safer place.
Vaidio's advanced AI makes video monitoring, security alerts, health screening and forensic investigation more accurate, more automated, and more affordable - and helps make your business safer and more secure.
AI Video Analytics for a safer, smarter world
In public places and private spaces, the Vaidio AI Vision Platform from IronYun delivers world-class accuracy, performance, and insights that create safety, security and peace of mind. Powered by mature, multi-generation AI, the Vaidio AI Vision Platform operates in the cloud and hosts 30 real-time and forensic video analytics solutions that support critical actions, such as intrusion detection, smoke and fire detection, and vehicle make/model detection for 1,000 vehicle makes and models--all from any Onvif-compliant IP cameras.
There are tens of thousands of cameras globally have equipped with Vaidio's easy-to-use software to accurately detect objects, people, and patterns--around the clock, every single day, at lightning speed.  Vaidio AI Vision Platform leverages the power of artificial intelligence, machine learning, and cloud technologies to work to help law enforcement agencies, businesses, and communities everywhere create a safer, smarter world. 
One Solution, Myriad Users
Safety and security are a growing global priority for enterprises, schools, law enforcement, and more organizations where strive to provide peace of mind in all types of environments. With mix-and-match solutions to meet current and evolving needs, the Vaidio AI Vision Platform is designed to make video monitoring, security alerts, health screening, and forensic investigation more accuratre, automated, and affordable wherever it's needed.
Advanced Reporting and Video Data Analytics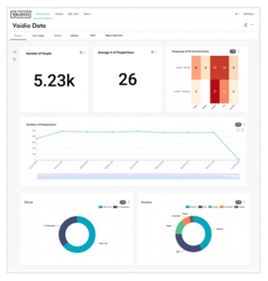 with Interactive, Customizable Dashboards
Included on the platform is Vaidio Data, a reporting and business intelligence engine that delivers actionable insights directly to the user via an interactive, customizable dashboard.  Vaidio Data analyzes the metadata dollected by the Vaidio AI Vision Platform and delivers the results in an intuitive visual format complete with charts and graphs that make it easy for users to quickly make sense of large quantities of data related to people, vehicles, objects and events.  Reports can be filtered by time and camera locations, with all data distributed back to users as actionable intelligence.
Simple Deployment of Large-scale Installations
Vaidio Command Center addresses the challenge of scaling large deployments across multiple sites by providing a centralized location to visualize and manage information, alerts and devices.
To support coordinated installations of the vaidio AI Vision Platform to hundreds or thousands of cameras, Vaidio Command Center connects up to 32 Vaidio Core and Vaidio Edge appliances. This approach centralizes all video analytics activities, including alert monitoring, event search, and node and camera management--for all cameras in all covered geographic regions.
When deployed on-premises or on edge, Vaidio software is preloaded on a rackmount server or edge device.  Vaidio software is natively containerized, meaning that it runs in a docker container whether it is deployed on an appliance or in the cloud.
Vaidio code runs extremely efficient, which delivers faster processing, faster alerting, more analytics per stream, and the ability to run effectively even on an IoT edge device.
Awards and Market Recognition
In Nov. 2021, IronYun's Vaidio has been recognized by IDC MarketScape, Video Surveillance Analytics, as " a good decision for enterprises that have extensive video surveillance capabilities and want to upgrade to advanced analytics that incorporate the latest technology."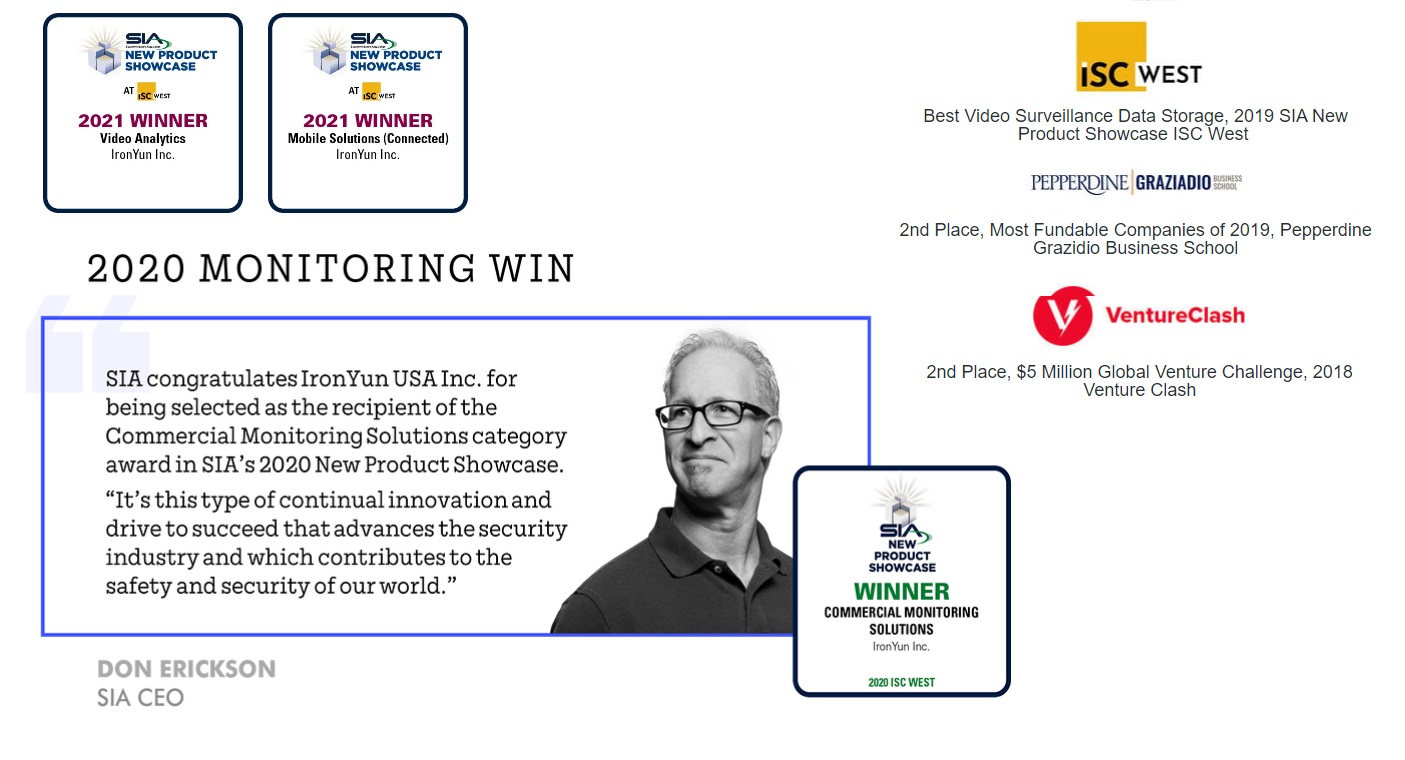 Fore more information about Vaidio, please click here.