When it comes to protecting a site's perimeter boundaries, video and radar are extremely powerful technologies. With radar, organisations can identify people or vehicles that enter a site, and follow their movements accurately. As for video, it allows teams to rapidly identify potential security threats, see exactly what is happening, and respond faster to protect people and assets.
Multi-dimensional perception
The challenge for organisations is how to combine these technologies to achieve 'multi-dimensional perception' for perimeter protection. Traditionally, this requires manual integration and configuration of camera and radar sensors, which can be prohibitively time consuming, complex, and costly – as well as requiring specialist skills sets.
Industry's first 'all-in-one' radar and video solution
To help organisations harness the power of multi-dimensional perception in their perimeterprotection solutions, Hikvision has created the industry's first allin-one Radar PTZ solution. This combines a Hikvision radar sensor with a latest generation Hikvision PTZ camera and deep learning capabilities to support a step-change in perimeter security.
By offering multi-dimensional perception with integrated radar and video sensors in the same unit, the Hikvision solution is helping all kinds of organisations to enhance their perimeter security, from industrial sites and construction sites, to automotive dealerships, universities, mines, and a wide range of other sites and facilities.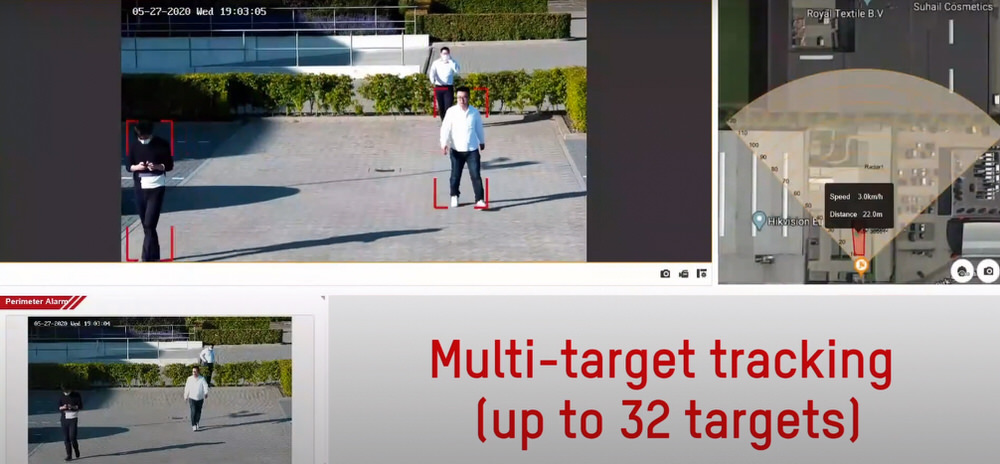 How it works
This is how multi-dimensional perception of potential security threats work: When the built-in radar sensor detects a moving object, an alert is sent to the PTZ camera. This then zooms in and focuses on the object if it is a human or vehicle of interest, with the help of deep learning video analytics. An alert is also sent to the security team automatically, enabling a faster and more effective response in the event of a security breach.
When used in tandem with a Hikvision DeepinMind NVR, the solution can enable quick video searches to save time for the security team. Multiple targets can be followed as they move around the site, helping to protect people and assets.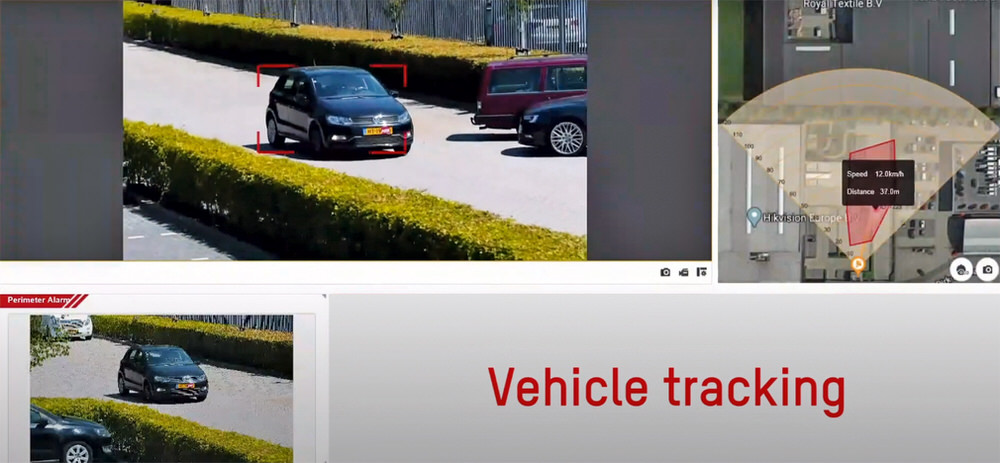 The unique benefits
Hikvision's all-in-one solution for multi-dimensional perception at the perimeter provides a number of key benefits compared to manually integrated alternatives. These include:
• Fast, automated detection of perimeter intrusion risks
The solution uses a feature called 'automated video double verification' to help teams identify perimeter intrusion risks quickly and effectively. This uses information from the radar to trigger the video camera, which determines if a person or vehicle is a security threat or not. Alarms are also sent to the security team automatically, helping them to respond to incidents faster and more effectively.
• Multi-dimensional perimeter protection
The radar sensor offers a coverage area of 100+ metres and allows security teams to identify multiple potential security threats. The solution also follows the movements of multiple people or vehicles around the site to maximize security and provide evidence in the event of a security breach.
• Easy identification of security risks with Hikvision smart technology
The solution incorporates new technology for identifying people and vehicles of interest. This intelligent perception, combined with very high-quality imaging, allows security teams to identify targets of interest and respond to potential security threats faster.
• Fast, cost-effective deployment
With the Hikvision solution, deployment is fast and easy, with no need to integrate and configure separate radar and video infrastructure. Configuration requirements are also minimal, and can be carried out quickly and easily via a simple, intuitive portal.
Together, these benefits add up to provide greatly enhanced perimeter protection for organisations of all types and sizes.
THE HIKVISION RADAR PTZ SOLUTION AT GLANCE
Radar detection distance of 100m (human targets), 120m (vehicle targets).
Hikvision camera sensor (4MP @ 60fps), with Hikvision 40x optical zoom.
DarkFighter and 140db WDR for crystal-clear imaging in low-light and strong light conditions.
Horizontal angle detection of 90 degrees.
Detection for up-to 32 targets with multi-target switch tracking.
Video double verification of people and vehicles based on deep learning algorithms.