As rapid business growth saw an increase in the number of high-value items passing through the site , the global logistics and distribution specialist chose Acctive Systems to replace the system and secure this large and most important distribution centre.
Acctive Systems is one of the leading privately-owned integrators of electronic security systems in the UK, with an extensive experience within the logistics sector. With support from their trusted technology partner Axis, they started developing what would become a high security solution which would also deliver health and safety improvements and substantial cost savings.
Advanced levels of protection
The solution included installation of 180 Axis network cameras across a large 300 x 200 metre site, with onboard analytics used to differentiate between people and vehicles.
At the perimeter, automatic number plate recognition (ANPR) cameras serve to further enhance vehicle identification, helping to initiate smoother passage for authorised delivery trucks. IP audio speakers, triggered by cameras at the site perimeter, are primed to issue alarms or pre-determined and real-time alerts to deter criminal activity or trespassing.
"The system is very sophisticated with cameras, analytics, IP audio and access control all interconnected to guard against any unexpected visitor. Our customer runs an incredibly slick operation, and this now extends to the security provision employed inside and out," states Andy Moseley, technical sales and technical designer at Acctive Systems.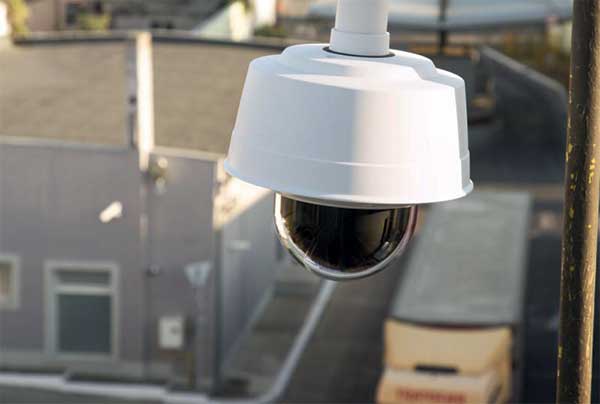 Guarding against loss and insider threat
Inside the warehouse, cameras are positioned above giant rollershutters for an ideal perspective of the main floor while also monitoring passage through the main access points. Axis' open-platform approach facilitates third-party access-control mechanisms and intruder alarms that seamlessly link to Axis' network cameras, IP audio solutions and centralised video management system (VMS).
With internal theft being of great concern, mini-dome cameras, positioned to cover the many packing benches, serve as a tool for profit protection that also doubles as quality control. High-definition video of the packing of all goods can be retrieved as required to solve any query or dispute.
"Imagine a situation where a truck goes to leave the premises but is short of an order. Distribution managers can now check an Axis recorder for video evidence from the packing area relating to that specific order, compare this with footage from the loading area, and quickly establish what has happened. This serves to help differentiate between a security-related situation or a genuine mistake, ultimately saving the business time and money," comments Andy Moseley.
Monitoring for health and safety
With trucks arriving and departing in quick succession, it is imperative that the fast-paced environment of the delivery and collection area is made as safe as possible. Staff need to always remain alert, which is where technology can help. The combination of cameras and IP audio technology helps to drastically reduce the likelihood of incidents occurring, and in the unfortunate event that one does occur, can provide vital evidence.
"On-camera analytics can be configured to detect anomalies in a scene and promptly address them, with IP audio speakers configured to warn of approaching vehicles or any situation that might prove hazardous," states Sean McNaboe, Key Account Manager at Axis.
"This serves to remind operatives of correct protocols and further improves health and safety standards across the site."
For health and safety, as well as security purposes, audio can be targeted towards relevant zones to ensure that the right person receives the message. When a fire drill is conducted, for example, an alarm sounds which can be accompanied by an audio announcement, reminding the workforce in a certain area of the number and location of their muster point. Pre-determined doors can then be selected to open through the VMS software.
At the designated assembly area, operatives swipe their ID cards against a third-party proximity reader to engage the automated roll-call system which logs their attendance. In this way, the entire workforce can be accounted for swiftly and accurately in an automated way.
The power of Axis Site Designer
Acctive Systems has also utilised the capabilities of Axis Site Designer. This innovative web-based tool can simplify and streamline the design of security and surveillance systems, assist quotation workflows and make projects easier to specify, revise and implement. The application removes any guesswork and allows cameras to be virtually positioned and their coverage visually demonstrated. It helps to identify potential issues such as blind spots affecting the field of view and is also essential to ensure that onboard analytics function correctly.