Wireless access control offers the same security benefits as wiring doors and other openings. However, because it is easier to install and powered by batteries or energy-harvesting technology, a wireless lock saves energy over an equivalent wired device.
Many advantages
Wire-free installation is faster and less intrusive. Most wireless devices require little or no drilling around a door, whereas every wired lock needs cabling. Wireless devices upgrade security without inconveniencing staff or disturbing work routines.
Typically, a wireless device is fitted without damaging walls or doors — a crucial advantage for businesses operating from rented office space. Quicker installation means fewer installer journeys to and from premises, another energy saving in fuel consumption.
Energy savings in use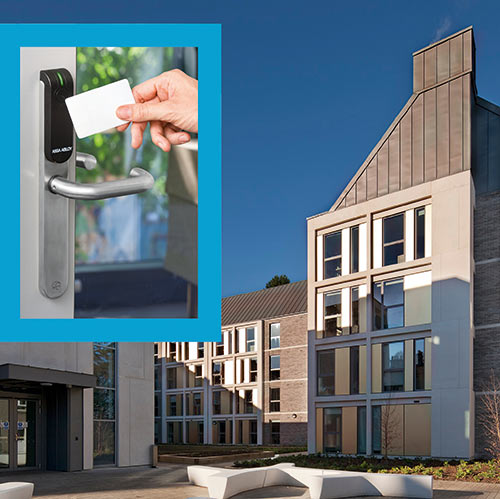 The Harvard Business Review* suggests energy efficiency is now one of the "key levers for business success". In use, battery powered locks consume less energy than wired locks, which traditionally work via magnets connected to mains electricity. To maintain security, they are "always on".
Wireless locks, on the other hand, only draw power when presented with a credential. This creates another potential energy saving: more than 70%, according one Assa Abloy benchmarking study**.
Related costs are also lower for wireless. For maintenance, wireless locks need just a battery change, once every two years (on average). Such efficiency benefits were a major reason why the University of St Andrews chose Aperio wireless escutcheons for almost 1,700 student residences***.
Energy-harvesting technology
Self-powered access control uses energy-harvesting technology rather than mains electricity or batteries. In a self-powered locking cylinder, the energy generated by inserting or turning a programmable key is harvested to power digital security.
One such solution is Assa Abloy Pulse. Businesses issue an authorised user with one Pulse key preprogrammed with all their access rights. Premises can equip almost any opening with Pulse, including door cylinders, cam-locks, furniture locks and padlocks.
"A Pulse energy-harvesting digital locking solution can be managed via the cloud as part of the Incedo access solution," says Joachim Mahlstedt, Head of Commercial Development Digital Access Solutions at Assa Abloy Opening Solutions EMEIA.
Each Pulse key also has an RFID chip inside for readers on wireless locks or mounted on a wall: There's no need for a user to carry two credentials. This added convenience was one factor in Denmark's sustainable project "A Place To" for housing development, selecting Pulse. Residents just unlock apartments with a Pulse key which also operates RFID readers to open communal areas****.
Fitting Pulse locks is energy efficient, too – an installer simply swaps out its existing mechanical cylinder and slots in a Pulse device. No batteries, no wiring.
Enables changes in space use and work patterns
Wireless systems provide flexibility in reconfiguring office space. Locks give access control another stage in its life-cycle, because they are much easier to move than wired devices.
In this way, wireless locking gives businesses the flexibility to adapt. A 2022 Future Forum survey found that 58% of knowledge workers already follow a hybrid work pattern: "Flexibility is the expectation – and increasingly the norm," the report concludes*****.
While the task of relocating a wired door is complex and energy intensive – or impossible – wireless devices are simply moved to wherever is convenient. They help businesses rebalance their space between offices, co-working or hotdesking, for example.
"Walls cannot usually be moved," says Joachim Mahlstedt. "However, wireless locks can. Once again, the energy consumed when choosing wireless locks is minimal when compared to many alternatives."