Counting people who enter your mall or store throughout the day can help you to improve your operations in a number of ways. It becomes possible, for example, to precisely increase the number of staff during busy times to improve service on the shop floor, and to reduce staff during quieter times to increase your operating efficiency. You can also more accurately predict demand over the coming days, weeks and months and accurately plan your future activities based on right-sized staffing and inventory.
In these ways, counting people in store can help retailers optimise their strategies and maximise conversion and revenues. However, the task of accurately counting customers over an extended period of time is a difficult one, particularly as legacy camera technologies are not always up to the task.

People counting for health and safety
People counting provides valuable insights across a range of industries and use cases. It can help to ensure crowd safety in high-traffic-flow areas such as stadia, for example, as well as ensuring that the number of people entering clubs, exhibition halls and other locations does not exceed fire safety guidelines.
Historical 'single-lens' people-counting challenges
In the past, retailers often attempted to count people in store using single lens cameras. These often mistook people for other objects, leading to inaccurate counts and misleading information about who has visited the store and what they do there.

One major problem with single lens cameras is that they have no 3D perspective, which makes it impossible to understand how tall an object or person is. This means that all kinds of inanimate objects can be mistaken for people, from shopping carts to baby carriages. The problem can be exacerbated when there's a change in light conditions, and even shadows have contributed to inaccurate people counts in some cases.
Getting an accurate count with dual-lens cameras
To overcome all of these challenges, forward-thinking retailers are installing next-generation dual-lens cameras in store. These record and process two images of a person concurrently, allowing a 3D image to be created. This accurately records the person's height and shape, identifying them positively as a human being, rather than an object or shadow, for example.
Delivering even more customer value with AI and ML
The best dual-lens cameras are also equipped with Artificial Intelligence (AI) and Machine Learning (ML) technologies that allow cameras to 'learn' over time. It becomes possible, for example, to gain new insights into customer preferences based on their demographics and in-store behaviours, leading to more effective merchandising decisions.
Covering security requirements with the same smart camera
The other major benefit of smart people-counting cameras is that they can double as security protection for your mall or store. This means that you can look after your customers and your assets, and accurately count people coming into the store – all with a single investment. With only one set of cameras, you can make significant savings on installation, energy consumption, maintenance and support – while also getting the very best in surveillance and smart retail insights.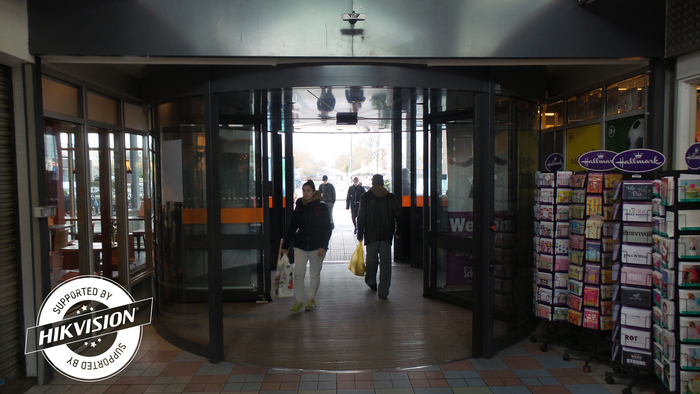 Why Hikvision for people counting and retail security?
Hikvision's people counting cameras deliver major benefits. First, they offer extremely high accuracy, with a dual-lens configuration that provides 3D imaging to distinguish people from inanimate objects and shadows. Our cameras also incorporate Deep Learning algorithms that can be continuously trained and improved with new datasets to count people more preciously.
A proven people-counting track record
Hikvision has helped organisations in a number of industries to count and monitor people entering their facilities. More about our retail capabilities, please read our case study on how a mall in Haarlem in the Netherlands has implemented our dual-lens cameras to gain new insights that enhance their business strategy and management activities. For the full story, visit [URL].
For more information about Hikvision's industry leading people counting and store surveillance technologies, or to tell us about your people-counting needs, please visit [URL].
Find out more
Hikvision intelligent video solutions empower retailers worldwide to transform their retail operations. To find out more about what Hikvision technology could do for your business, visit Hikvision Core Technology or contact overseasbusiness@hikvision.com. If you want to contact our sales, please fill out the contact sales form.
About Hikvision
Hikvision is a world leading provider of security products and solutions. Featuring an extensive and highly skilled R&D workforce, Hikvision manufactures a full suite of comprehensive products and solutions for a broad range of vertical markets. In addition to the security industry, Hikvision extends its reach to smart home tech, industrial automation, and automotive electronics industries to achieve its long-term vision. Hikvision products also provide powerful business intelligence for end users, which can enable more efficient operations and greater commercial success. Committed to the utmost quality and safety of its products, Hikvision encourages partners to take advantage of the many cybersecurity resources Hikvision offers, including the Hikvision Cybersecurity Centre. For more information, please visit us at www.hikvision.com.