Vacron's Global Monitoring Video Management System (GMS) integrates information from multiple monitoring devices into one platform and generates reports, making it easier for managers to perform remote monitoring and playback of recordings. The Omnidirectional Video Surveillance GMS is designed and especially ideal for fleet management in applications.
The establishment of a fleet management system is very important as it is mainly to protect their assets for their own or clients. Through the intuitive and user-friendly monitoring and management system, managers or supervisors of each user can view images, information and driving conditions from their vehicle in real time.  And, the system will analyze the data that recorded .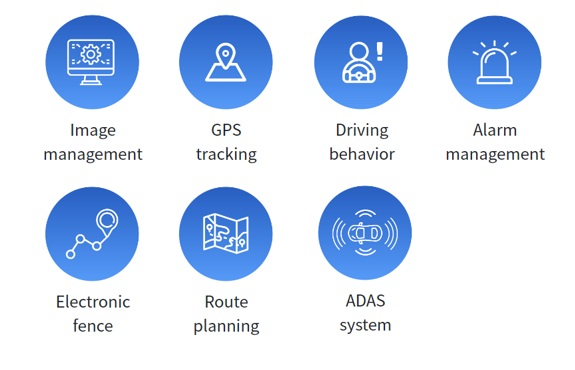 The Vacron GMS supports to automatically upload images to a dedicated server or onto the user's compan cloud space and store them in a highly secure enterprise-level data center. It can be used without additional installation. Relevant personnel do not need to maintain and troubleshoot the server. Updates will be made automatically and sync to your system to immediately benefit from new features that make your images fully supported.
Driving safety, reducing accident costs, and strengthening the company's overall operation management.
The fleet management system provided by Vacron not only provides software services, but can assist in the establishment of everything from car DVR host, car camera to cloud storage space. Customized business environment, suitable for any size, to create the most suitable fleet management system.

For the logistics industry, the failure of trucks to arrive at destinations on time will cause a negative impact on business, so the complete tracking of shipments has become the focus of the industry. Vacron's logistics solutions enable companies to integrate fragmented information into GMS for management, which means that managers can get all the information they need in one interface with simple operations.
Through the full integration of product barcode and video surveillance, as well as the connection of multiple recording devices to the GMS monitoring system, enterprises can integrate the information of personnel, goods, transportation, and inventory into the platform for unified management.
Global Monitoring Video Management System (GMS) is a cloud-based video management software for enterprises. Through the integration of GMS and monitoring equipment, managers can stay on top of the behavior and performance of vehicle drivers to make more accurate decisions, optimize the delivery process, and reduce costs as well as improve customer experience.
About  FUHO Technology Co., Ltd. / VACRON
Since 1991, Vacron has its own Professional R&D department and committed to provide perfect sales service has been their business core value. Vacron has been dedicated to develop and manufacture the "video surveillance system" and the product system includes "environmental surveillance and mobile surveillance" with the vision of system integration and solutions to achieve comprehensive security monitoring in the most markets of the world.  Click here to read more...
Contact Info:
FUHO Technology Co., Ltd.
Email:  service_en@vacron.com
Website:  www.vacron.com
Youtube   |   LinkedIn