For a modern civilized society, the Internet of Things is a technology worth developing. With the on-going development trend in IoT, smart video door intercoms and smart smoke detectors are providing the answer for the migration solution to remote-monitoring for homes (property) for various situations, and is fast becoming a 'virtual' guard at home 24/7, especially when you are out or away. How will these two intelligent devices provide a key to benefit our modern lifestyle?
4G Video Door intercom
Gainwise Technology has developed its Smart Video Door Intercom with a 4G mobile network. It requires only a SIM card, instead of Wifi, to deploy its own network-infrastructure regardless of the distance between the door intercom and the router, as well as saving on the need for wiring and associated extra costs. The 4G networking feature allows the equipment to be easily installed and to provide stable and effective functionality under most conditions. In addition to the door intercom function, the Gainwise 4G video Door Intercom supports higher security features, such as access recording, motion detection recording, tamper alarm, remote control of door locks...etc. Please check more details by clicking here.
4G Smoke Detector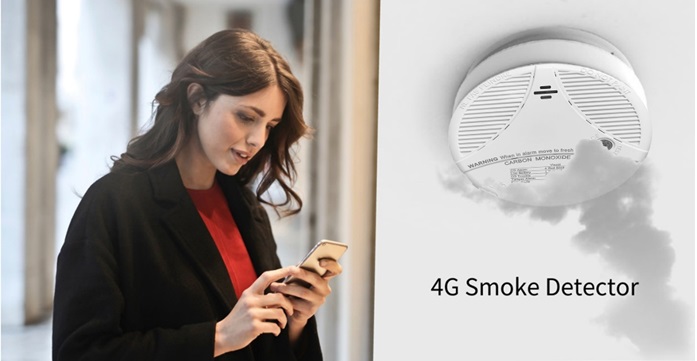 Although the market is rife with Wifi smoke detectors, and they are quite simple to setup, it is a well-known fact that their Wifi power consumption is quite high, and so, not suitable for battery-powered smoke detectors. In addition, the Wifi network on these frequency bands can be easily interfered with; so, Wifi networking is not a stable network. For example, this could mean that some notifications would not be successfully delivered, meaning, users would not receive them, when a Wifi network is suffering interference or is disconnected for whatever reason.
Gainwise's LTE smoke detectors are not only stand-alone devices but also, with RF interconnection technology, designed to give support as a Smoke Hub. The stand-alone version of the 3G/4G Smoke Detector sends SMS messages and dials out to the user's mobile phone immediately when an alarm is triggered. The Smoke Hub version of the 4G Smoke Detector can be star-chained together; and, through the RF embedded transceiver, dozens of the 4G Smoke Detectors will form a Smart Smoke Detection system for modern houses and buildings. The Master unit is integrated with the 4G module and provides notifications to users over a 4G mobile network when it receives an alarm from any slave smoke detectors in a system ring. For more information, please click here.
4G/5G communication network provides stable network quality
With the explosive growth of communication network technology and low cost of ownership today, most IoT devices are directly designed to integrate a 4G & 5G mobile module. The advantage of a mobile module is to support user(s) directly connect to the 4G base-station in the city where they are, without the need to worry about how to connect to a valid Wifi network and/or whether the available router is working or not. And, the best thing of all the advantages of using the 4G network is that it is wire-free; using Gainwise's 4G devices, the user can mount and install them in any location, as long as the inserted SIM card is valid and has signal reception.
With a team of experienced engineers and resources, Gainwise Technology has been committed to focusing on the development of mobile networking products for more than 20 years. Starting with GSM, Gainwise has successfully developed many excellent products and solutions, such as: 4G Video Door Intercom, 4G Smoke Detector, 4G FWT, 4G opener, and ...many more, to offer more options with better user experience and performance, and, with a better service than typically experienced with Wifi-supported products.


To get further support, please contact:

Gainwise Technology Co., Ltd.   
Email:  info@gainwise.com
TEL:  +(886-6) 312 7675
Website:  www.gainwise.com