As being one of professional manufacturers in 4G communication production for over 25-year experience, Gainwise has successfully produced and marketed its quality 4G door intercom for decades and earns good reputation with business.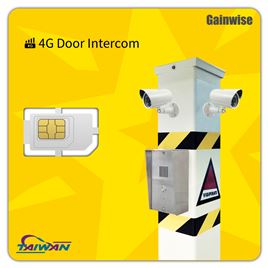 4G Door Intercom
Gainwise learns from business partners and clients.  Its 4G intercom came out with voice calls only; with valuable inputs from a French client, the Gainwise 4G intercom improved for outdoors ambient and works as an emergency phone. The performance has been very well and stable in practice! In the application, when a phone called in, it can be told immediately where the caller at  through the phone number; ;this is to reduce the time wasted on asking location-related questions. This successful case inspired us to have more functions up to the 4G door Intercom for more emergency cases to apply.
With the trend development, our Door Intercom solution is 4G/5G embedded. In order to get high-quality voice calls, the product is design to support using Lan and Wifi technology in option. The purpose is to share the network with AI-IOT device and provide stable network transmission. As built-in 4G(or 5G) module, Gainwise Door Intercom can be used in places where are no any internet connectivity available and/or no on-duty personnel arround (such as farm yards, parks, warehouses, and coastal areas); with 4G/5G tele-communication coverage, it can also be remotely monitored and managed at 7/24.
The 4G/5G door intercom can be installed with AI-IoT cameras.  Its 4G/5G facilities can provide the local network for the AI-IoT functional cameras to perform facial recognition/comparison and video recording; for law enforcement, this may provide immediate rescue and reduce crime rates.
The cameras built on pole is the AI-IoT image.  Through 4G/5G internet, users can download a comparison patterns/data to make the cameras perform facial recognition while objects image are captured. After processed, the comparison result will be transmitted back to central server or the cell-phone of owner or a supervisor.  This will speed up the recognition performance without adding up the computing loads at center and therefore to minimize the costs of entire system deployment.
It is ideal equipment and tool for applications of unmanned industrial parks, farm yards, winery, warehouses, and coastal borders.

The Gainwise 4G/5G Door Intercom can be easily installed.  The most popular benefit is it will provide a communication network at the installing site(s).  If applied the solution at a national park, when any emergency events happened, its video (if images captured and verified) can send an alarm message or a footage to its monitoring center.  Further, if a visitor presses the emergency button and call, on-duty personnel at the center can give instructions, and/or take prompt measures-- send out patrol group, and provide medical care.
4G Smoke Detector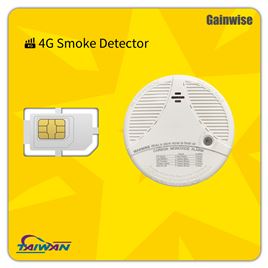 After 4G Door Intercom successfully turned into the Emergency Phone cases, Gainwise has recently launched its Smoke Detectors with 4G built-in. It is operated by battery that is much easily to be installed without wiring. As the 4G data transmission, the Gainwise 4G Smoke Detector can get graphical data from server; this will allow user to keep track on site situation, life of battery, and device status to minimize hazards and damages occurs. These are the incomparable advantages that traditional ones can hardly offered.
The device has been successfully sold to USA and installed at the case of unmanned warehouses. After few months tested, the system performance and effectiveness are turned out very positive with highly-rated user satisfaction. As the sites where need to install the smoke detectors are humid and warm, to install traditional ones may spontaneously combust.  Further, there are not able to run power cables and get main power supply.  With the installation of Gainwise 4G smoke detectors, they can reduce the system costs, keep track of the real-time situation in those warehouses, and minimize possible damages and further prevent further financial loss from hazards consequences.
Gainwise has experienced and achieved a wide range of applications based on 4G/5G communication and technologies for partners and clients in over 50 Countries of the world.  Do you eager to learn more 4G Audio/Video Intercom for IoT Applications? Please don't hesitate to contact Gainwise.
About  Gainwise Technology
Gainwise is a solution company that specialized in designing communication products. All our engineers have experience over 25 years of designing GSM / 3G / 4G / 5G module embedded products.The successful products include GSM gateways, 3G / 5G FWT, 3G audio door station, 4G / 5G video intercom, 3G / LTE relay Access Controller and more.
Our mission is to design, manufacture, and market reliable 4G / 5G wireless products for use in versatile applications. Certified for CE, FCC, and complied with RoHS compliance, our vision is to innovate continuously, pursue excellence, and enhance customer satisfaction for consistently high-quality products and high-performance solutions to our worldwide partners.
...click here to read more
Contact Info:
Gainwise Technology Co., Ltd.
Email:  info@gainwise.com
Website:  www.gainwise.com.tw