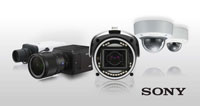 Sony Video Security ‒ Distributed by Bosch
Robert-Bosch-Ring 5
85630 Grasbrunn
Germany
About the company
Sony delivers complete video security solutions with industry leading image quality and performance – enabling you to see every detail, no matter what the environment or lighting conditions are. Bosch has been selected as the exclusive sales and marketing partner for Sony Video Security in all markets, except for Japan. In addition, Bosch and Sony collaborate on technical development of video security solutions.
Product Categories
Video surveillance
CCTV
Intelligent Camera and System
Digital Video Recorder

Products
VB770
Equipped with ultra-high sensitivity of ISO 409600, the SNC-VB770 4K network camera features top levels of minimum illumination of less than 0.004 lx - to capture exceptionally detailed 4K/30 fps colour video, even at night and in similar extreme lighting environments.
VM772R
The camera is Sony's first 4K network security camera, bringing industry-leading clarity and sensitivity to critical video monitoring and surveillance applications. Moreover, the SNC-VM772R captures detail-packed 4K/30 fps video footage even in low-light condition, thanks to the camera's highly sensitive 1.0-type back-illuminated Exmor R™ CMOS image sensor.
XM637
The rugged SNC-XM637 Minidome IP camera has been specifically designed for use in video security and surveillance applications on board trains, corridors and hallways. The camera not only captures Full HD pictures but offers the flexibility to have a wider range and the image rotation.
SNC VB642R
Equipped with advanced image process technology such as View DR, Visibility Enhancer, the SNC VB642R Network Minidome Camera is an ideal option for outdoor video surveillance application, providing HD quality and the possibility of SD card storage.
SNC VB642D
The SNC-VB642D is a weather-resistant, easy to install 'bullet-type' fixed network camera. Equipped with various advanced technology, the camera captures wide-range, low-noise Full HD images, even in challenging low-light condition.
News