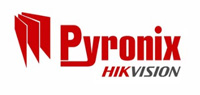 Pyronix Limited
Braithwell Way
Hellaby, Rotherham
South Yorkshire
S66 8QY
United Kingdom
About the company
Pyronix is a market leading designer and manufacturer of innovative products and technologies that provide the global security industry with versatile, effective and trusted solutions.
With humble beginnings, Pyronix has patented many technologies and won numerous awards for innovation over the last 30 years and we continue to pride ourselves on innovation and quality.
Part of the Hikvision group, we stay ahead of the curve and our dedication to reliability, quality, innovation and customer service, remain at the heart of everything we do and are key factors in everything we have achieved.
Products
ENFORCER32-APP
The Enforcer 32WE APP is a Grade 2 control panel that is perfect for residential and small commercial installations. Utilising Pyronix multi-award winning two-way wireless technology, the system can be fitted quickly and easily without compromising on security. The Enforcer 32WE APP also delivers complete on-the-go control from anywhere in the world, via its compatibility with the HomeControl+ App and PyronixCloud.
PCX46-APP
The PCX 46 APP panel has all the features of the standard PCX 46. You can connect up to 46 wired devices such as detectors, sounders and sensors, along with 32 wireless devices including the magnetic contacts, smoke and CO sensors using the RIX32-WE to give you the ultimate fexibility.
XDH10TT-AM
The XD10TTAM is a high security outdoor detector from Pyronix, combining established and patented technologies such as Tri-Digital Detection Signal Processing and Tri-Anti-Mask Technology which have been adapted to enhance its performance in extreme outdoor conditions.
XDL12TT-AM
The first low-mounted external volumetric detector to be added to the Pyronix range. The new XD delivers Dual-Vision detection technology to heighten false alarm immunity, as well as Grade 3 technologies to provide the most robust and secure ungraded external detection. Offering 90-degree detection when mounted at a height of between 1-1.2m, the brand-new XD can provide a maximum range of 12m detection.
KX15DT
The KX15DT features Dual element pyro-electric sensor with X-band DRO based microwave both of which need to be triggered to set off the Alarm, this reduces the risk of false alarms. With Blue Wave Technology and digital temperature compensation the detector will adjust its sensitivity to the environment.
News