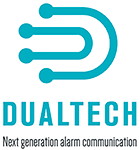 Dualtech
Gruvgatan 8
421 30 Västra Frölunda
Sweden
About the company
Dualtech was founded in 1999 with an idea on how to in a simple and economical way increase the level of security in alarm systems. Today Dualtech is one of the leading companies within the area of GSM based alarm equipment, with customers in 20 countries in Europe and Asia.

Our typical clients are the leading security products wholesalers and the leading security system integrators.

Our products are succesfully installed in all types of premises, from the residential market to the high security field, including several leading European and Asian banks.

Product Categories
Intruder Alarms
Supervised Alarm Transmission