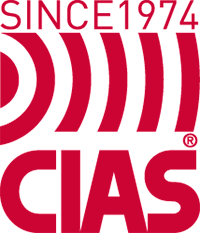 CIAS Elettronica Srl
Via Durando 38
20158 Milan
Italy
About the company
CIAS is a wholly Italian company and has been operating in the security market since 1974, in the field of research, development and manufacture of security equipment and perimeter protection systems. CIAS is nationally and internationally renowned for its microwave, infrared, triple technology barriers as well as fence detection systems used to protect nuclear power plants, prisons, military and civil airports, banks, large factories, shopping malls and villas.
Product Categories
Perimeter Protection
Perimeter Protection

Tags
Products
Microwave Barriers
A microwave barrier is one of the most reliable and safe intrusion detectors used for outdoor perimeter protection. CIAS offers a wide range of MW barriers, from ERMO 482 X PRO 3.0 with "fuzzy logic" for high security to Ermusa for residential and industrial applications.
Fence detection
CIAS fence detection systems include different technologies: SIOUX PRO based on 3D MEMS technology; APACHE FIBER based on opto-phonic technology; and BLACKFEET based on magneto-phonic technology.
Sensors
Mono-head sensors for the protection of entrances, balconies, as well as covering dead zones in perimeter installations where it is not possible to create the correct overlaps in microwave barriers installations.
DATA COLLECTION SYSTEM
All the digital CIAS sensors or third party devices can communicate with each other using a simple cabling system over IP, RS-485 or Fiber optic.   
CCTV & CIAS SUPERVISOR
The CIAS-Supervisor is the ideal solution for simple and efficient systems over IP that allows the integration of internal and external CCTV and sensors.
News