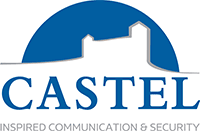 Castel
ZAC de la Ronde
10 route du Bois de la Casse
49680 Neuillé
France
About the company
With nearly 50 years' experience in the voice and security business, CASTEL is a major player in the field of intercom and access control systems.
CASTEL has been developing and marketing communication and access control solutions since 1970, together with professional intercom and security systems. CASTEL draws on all of this industrial experience and expertise when working on your projects.
As a specialist in industrial and service industry buildings, transport and car parks, medical, banking, defence, prison sectors, etc, CASTEL designs and manufactures communication and access control solutions that will secure and manage your premises to give you total peace of mind.
Product Categories
Intruder Alarms
Alarm communication

Access Control
Access Control

Products
VDIP Evolution
A GLOBAL SOLUTION FOR BUILDING SECURITY
This simple to use, modular, scalable and high-performance solution VDIP Evolution responds to all issues relating to access control, supervision, intrusion detection, time programming, planning- room booking and intercom over IP.
Dedicated to many different environments: industrial, tertiary industry, military, institutional, hospital, etc., solution works equally well for environments with several dozen reading points as well as those with more modest requirements. The wide range of equipment (readers, keypads, intercoms with reader…) associated with a complete software suite allows to meet different needs.
XELLIP
FULL IP/SIP AUDIO VIDEO ACCESS INTERCOM AND INTERCOMMUNICATION NEW GENERATION
A pioneer in IP intercom solutions, CASTEL upgrades the XELLIP range. More than a new design, technological developments and advanced features : HD video quality (wide angle), HiFi audio quality, complete connections, interoperability with the Security ecosystem, DDA compliant, etc.
This IP native system can provide an all-in-one solution: a single network cable for managing audio, video, data and PoE station supply. Direct IP connection (wired or Wi-Fi) of different stations in the range offers an infinite number of independent or remote uses.
The use of SIP protocol (RFC3261 standard) and the most common audio and video codec (G711, G722, G729, GSM, H263, H263+, H264), ONVIF, etc., ensure our openness to other systems: IP telephone systems, mobility, supervision, video surveillance, etc.
REFUGE INTERCOM SYSTEMS
EFFICIENT AND SECURE SOLUTIONS, ADAPTED TO THE REFUGE OR EMERGENCY INTERCOM NEEDS
For secure refuge areas (waiting rooms) in public buildings, or for emergency call points in the public transport or parking sectors for example, CASTEL has many intercom stations, integration kits or ready-to-use kits, providing a fast and reliable response to users.
CASI
CENTRAL ALARM AND SECURITY INTERCOM SYSTEMS
A security system aimed at centralising and localising emergency calls coming from voice-activated «glass broken» terminals (Alarm and communication centralisation, Alarm activation by glass broken device or handset call, Central buzzer for signalling alarms, Car park audio device, Emission of industry standard NFS 32001 emergency evacuation signal).
PPMS BOX
QUICKLY ALERT AND INFORM
The PPMS Box solution has been specifically designed for secure schools, coordinate emergency response plans and act quickly to provide a reassuring, safe environment for children, students, teaching staff and visitors.
With a single call (or by pushing the emergency button), the PPMS BOX allows you to broadcast information, alert or mobilisation messages on any kind of channel (landline, Smartphone, SMS, sirens, etc.) to everyone concerned.