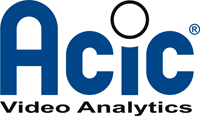 Acic
28 Boulevard Initialis
B-7000 Mons
Belgium
About the company
ACIC is a provider of video analytics or video content analysis solutions (VCA).
ACIC's offer is based on a range of appliances consisting of high-performance VCA software installed on high-quality centralized servers or distributed and ruggedized PCs. ACIC's appliances are easy to set-up and enables a seamless integration with major IP cameras, DVR and NVR/VMS of the market.

ACIC appliances cover a wide range of applications like perimeter protection, sensitive area protection, city surveillance, sea monitoring, people counting, automatic incident detection and road traffic data collection.

ACIC's support service is highly appreciated by ACIC's clients and partners.
Product Categories
Video Surveillance
Digital Surveillance Solutions
CCTV

Products
MvActivityDetection®
Intelligent Activity Detection through Video Analytics.

MvActivityDetection® will generate alarms when objects of a selected class enter some defined areas or cross a virtual line. Constraints on object motion can be used to detect more specific scenarios. The learning and adaptation algorithms of MvActivityDetection® are robust to outdoor challenging conditions, like shadows or lightening effects. MvActivityDetection® is a fundamental video detection product adapted to many automatic surveillance contexts.
MvPeopleCounting®
People Counting through Video Analytics.

MvPeopleCounting® is a video analytics application performing precise people counting. People who cross a virtual line are counted, depending on the direction of their movement. MvPeopleCounting® is able to handle groups, standing persons or unnatural motion. MvPeopleCounting® is not affected by lighting phenomena like shadows or reflections. The visual configuration of MvPeopleCounting® is easy and the system can be moved and set up rapidly. MvPeopleCounting® is a cost-effective solution for accurate statistics in shops, shopping malls, museums or any public places.
 
MvPanoramaDetection®
Wide area protection - Activity Detection based on panoramic images constructed from mobile thermal camera scans.

MvPanoramaDetection® reconstructs a panoramic video from images provided by a pan-tilt camera. The mega pixel resulting video is analyzed by MvActivityDetection® to detect mobile objects. The use of a long focal distance lens enables to detect small far-off objects like boats, vehicles or humans depending on the context. This extension is especially useful in wide areas surveillance, like coasts or no-man's-lands.
MvCameraAnomaly®
Surveillance cameras automatic maintenance tool.

MvCameraAnomaly® is used to automate the maintenance of a CCTV network. MvCameraAnomaly operates autonomously and allows to detect cameras dysfunctions and to generate alarms. MvCameraAnomaly® works in a centralized way and can handle a number of IP or analogue cameras. The setting of the software as well as results checking are possible through a friendly user interface.
 
MvTrafficMonitoring®
Road traffic monitoring through video analytics.

MvTrafficMonitoring® is a high-performance and flexible system that allows to process multiple lanes of traffic in every outdoor or tunnel conditions. MvTrafficMonitoring® produces in real time individual vehicles and traffic flow data in all traffic contexts, from stop and go to high-speed conditions. MvTrafficMonitoring® perfoms automatic incident detection and is a cost-effective and flexible solution for road traffic monitoring and surveillance.
News