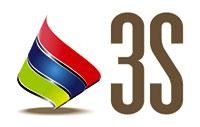 3S System Technology Inc
6F., No.5, Ln. 16, Sec. 2, Sichuan Rd.
Banqiao Dist.
New Taipei City 220620
Taiwan
About the company
3S System Technology Inc. is based in Taiwan and self-operated, supplemented by rich product manufacturing experience and comprehensive supply chain to provide perfect customized services. Our factory has the most advanced production equipment, standardized process technology, and get many international certifications. We can promise all products are only ten thousandth defects in the production process for customers. Pursue the goal of "Safety and Best Quality", demonstrate our successful practice experience to the customers around the world and contribute to the global smart surveillance market with expertise!
Products
Multi-Sensor IP Camera Series
Panoramic Multi-sensor IP camera provides 180° or 360° field of view and focus on a specific large area. Combining two or four sensors in one housing can allow the camera to create an effective panoramic experience and get wide views and forensic details from one camera.
Thermal IP Camera Series
The latest thermal imaging sensors are used, which are divided into Explosion-proof Thermal, Thermal with dual-lens and single-lens models. The built-in AI algorithm and unique invisible light technology of the camera are widely used in fields with high safety.
Highly Heterogeneous System Integration Platform-ASCM
ASCM is specially designed to integrate various heterogeneous systems. The intelligent division of work among heterogeneous systems can improve the safety and operation efficiency of the field environment and devices. The superior control management platform truly achieve the purpose of intelligence, automation & immediacy.
3Smart AI Intelligent Video Analysis
As a pioneer of global imaging technology, 3S has world-class top AI intelligent video analysis technology especially excellent image recognition and unique imaging detection technology combined with a smart management platform with a high degree of integration and visual interface that perfectly integrate heterogeneous systems for users.
Embedded Hybrid XVR & NVR
3S hybrid video recorder and network video recorder are provided with Taiwan's well-known NOVATEK chips, which can not only effectively improve video recording performance, but also solve the doubts about the security during image.
News