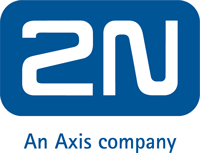 2N Telekomunikace a.s.
Modranská 621/72
143 01 Prague 4
Czech Republic
About the company
2N is a leading European company engaged in a development and manufacture of IP access control, IP Audio and IP elevator communicators. In 2016 2N became a part of the Axis group.
Product Categories
Access Control
Time and Attendance
Access Control

Products
2N® IP Verso (Luxurious IP modular intercom)
The 2N® IP Verso security intercom is configurable to your needs thanks to its modularity. It provides reliable access control and allows you to easily interface with other systems. 2N offers the same type of intercom also with LTE connection, 2N® LTE Verso.
2N® IP Solo (Compact intercom ideal for Home Automation)
A compact IP intercom that would be a great addition to your smart home entrance. Despite that it has only one fitted button, it can astonish by a hidden HD camera, multiple functionalities including calls to your smartphone, and easy integration into an existing home automation system.
2N® IP Force (Toughest IP intercom in the world)
2N® IP Force is an extremely durable IP intercom that can withstand even the most demanding conditions. It provides for visitor communication monitoring and access control. Take advantage of its superior features for maximum site security.
2N Access Unit
The innovative 2N Access Unit is based purely on IP technology. It combines the functions of a traditional controller with the functions of end access device. The unit is available in versions with keypad, RFID card reader, fingerprint reader or Bluetooth. Its characteristic design is striking, also being attractive thanks to simplifying installation and configuration. Naturally, it can also be connected to 2N IP intercoms, gaining you a comprehensive access control system solution which you can manage easily via 2N® Access Commander.
2N® Indoor Touch (Luxurious touchscreen answering unit)
The stylish multifunctional communicator 2N® Indoor Touch fits elegantly into any interior. One glance at the display panel will let you know who is standing outside your door, to let you start a dialogue or open the door lock. In addition, in combination with 2N IP intercoms you'll obtain a comprehensive system for door communication.
News