THE MARKET FOR ACCESS CONTROL
The global market for access control systems is expected to grow from 8.6 billion dollars in 2020 to 12.8 billion dollars by 2025 – with an 8.2 percent CAGR.
The technological advances and increased use of wireless security systems are some of the key factors driving growth in the access control market, according to Marketsandmarkets.
At a global level, biometric readers are expected to have the highest growth.
Biometric solutions are increasingly used in government facilities, the manufacturing industry, power plants, and by the military according to Marketsandmarkets. The market research company also believes that housing will be the fastest growing vertical in the coming years. The demand for electronic products is increasing in line with the growing trend of home automation.
At the same time, the transition towards service-based business models continues. The market for ACaaS (Access Control as a Service) is expected to be 3 billion dollars in 2027. That equals a 19 percent CAGR. In both the US and China, the market will grow by almost 25 percent annually, while growth in Germany will be slightly lower: just under 17 percent.
According to a new market report by Memoori, a new breed of ACaaS suppliers primarily coming from the physical security manufacturing business have developed their solutions built on their hardware and software skills in access control. A few have been developing the business for almost a decade but it is only in the last few years that the business has gained serious traction and more companies have recently joined the ACaaS business, selling solutions direct to the end user.
Previously, the traditional route to market through system integrators has stifled ACaaS somewhat, as some system integrators were not interested in this approach. Now it seems the direct route to market will grow and has the possibility within the next 10 years to take a significant share of the business. But Memoori also stresses that selling solutions direct to buyers will conflict with the more traditional routes to market, so this is not an inevitable win/ win solution.
MULTI-FACTOR AUTHENTICATION AND CYBER SECURITY
Cyber attacks have increased during the pandemic and IT personnel have experienced a very abrupt change of security conditions when large parts of the workforce suddenly started working from home. Not least, ransomware attacks targeting companies have received a great deal of attention during the past year.
Many combinations
Genetec points out that a secure IT perimeter no longer exists – physical security professionals must put measures in place to deter hackers and protect their businesses. Encryption and multi-factor authentication are very important parts of this.
Multi-factor authentication means having to prove identity/gain access by using more than one credential. For example, an employee must both have a credential in his/ her phone and use a pin-code to get access to the workplace.
Quick growth
Video intercom, fingerprint, SMS text and e-mail are other credentials that can be combined in a multi-factor authentication solution.
Earlier, multi-factor authentication was most common in high end security applications, but now it is accessible to every industry and is expected to continue growing.
A main reason for that is many people are already used to multi-factor authentication in their private lives, for example banking matters and identifying themselves when contacting authorities online.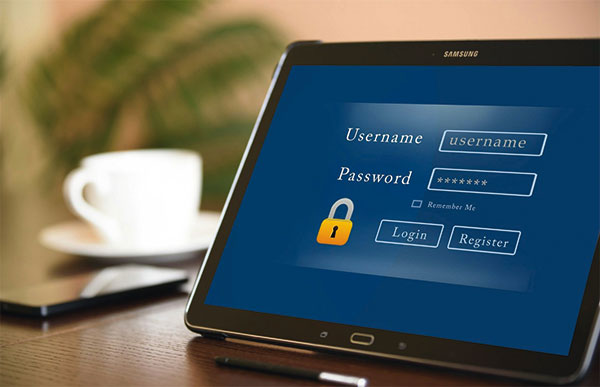 TOUCHLESS SOLUTIONS
Peter Boriskin, Chief Technology Officer, Assa Abloy Opening Solutions Americas, believes one of the most significant changes the pandemic has brought is the emergence of solutions for frictionless access and touchless door openings. He thinks this will become the standard for high traffic doors in public facilities. "The demands of the Covid-19 pandemic have accelerated the need for and adoption of both existing and emerging technologies to create a safer environment", he says. Face recognition and iris recognition are two of technologies that are expected to grow rapidly.
Fivefold market
According to a report by 360i Research, face recognition will see a 20 per cent CAGR until 2025. Another report, from Future Market Insights, estimates that the market for frictionless access control will increase fivefold between 2020 and 2030.
Michael Gips points out that face recognition has become cheaper and easier to install and use.
"In the Covid-19 world and beyond, face recognition will be a critical form of authentication, given the touchless experience. Past implementations of face recognition access control systems suffered from poor accuracy, anti-spoofing issues, and lack of privacy controls. But advances in recent years have catapulted the technology into the mainstream."
However, in the Western world there are major concerns regarding privacy
CLOUD SOLUTIONS AND HYBRID SOLUTIONS
There is a clear shift towards cloud-based access control, partly due to the advantages it provides in terms of being able to handle access at several locations at the same time, but also because of scalability and higher security since security updates can be done remotely.
Access management has previously required that, for example, if an employee is visiting a different branch office, it would require notification multiple days in advance in order to prepare for their arrival in terms of security and access. With a cloud solution, it is done quickly and smoothly and authorisation levels can be easily managed, time-limited and changed over time.
Hybrid makes transition easier
Genetec believes that the pandemic has accelerated the transition to cloud solutions and according to a report conducted by the company last year, only 20 per cent of respondents had already deployed cloud solutions in their physical security environments. This means the business possibilities are very good ahead and hybrid solutions are part of it. Genetec believes more chief security officers will let go of the division between cloud and on-premises physical security systems and embrace a hybrid deployment model.
A hybrid model makes the transition to cloud solutions easier and enables end customers to implement specific systems or applications in the cloud while keeping existing on-premises systems, the company stresses. "A hybrid approach makes for an easier transition to the cloud. It can also be the simplest answer when deciding how to enhance scalability, redundancy, and availability to meet changing needs", Genetec writes.
"Old model is being phased out"
Michael Gips stresses that a hardware sale driven business model has been dominating the access control business. End customers have bought readers, key cards and panels from distributors and have let an integrator assemble and programme the on-premises server. Updates have been done manually and IT staff have been needed for managing operations.
"Times change, as has our culture and security landscape. And such, this model is now being phased out and replaced by subscription-based access control operated from the cloud to give end users the control and flexibility they want", he says.
According to Researchandmarkets, hosted access control is the most prominent service within ACaaS (Access Control as a Service). The owner of the solutions offers various types of hosted access control as a service and the end customers do not have to pay for the maintenance of the servers. This has been the main driver in the market for hosted services.
The possibility for third parties to update access rights for the end customer saves time and costs that would otherwise be spent on monitoring and managing all access control activities.
IHS Markit predicts a steadily increasing demand for ACaaS, and especially among new users such as small and medium-sized companies.
MOBILE ACCESS CONTROL
IHS Markit has predicted more than 120 million mobile credentials will be downloaded in 2023. In 2019, HID estimated that 54 per cent of businesses had upgraded or would upgrade to a mobile access control system within three years.
"Key card access control systems are quickly becoming obsolete, cards can often be lost, misplaced and hacked", states cyber security advisor Michael Gips. Mobile credentials on the other hand, provide a safer and more convenient solution. And because people carry their mobile phones everywhere, they are natural to use for access control.
Remote access necessary
Furthermore, mobile access control enables remote applications.
For example, a tenant or employee can grant access to a visitor from a mobile app on their phone after receiving a notification from the intercom. And this can be done from anywhere as long as the resident or employee uses their mobile.
Peter Boriskin, Chief Technology Officer, Assa Abloy Opening Solutions Americas, states that remote applications are now more important than ever before and are also becoming more of a necessity since many people work from home. In addition, solutions are needed to control access to unmanned infrastructure. On the Asis blog, Peter Boriskin says: "The ability to issue access rights over the air eliminates the need for key holders to go to an office environment to have keys programmed, reducing the potential for germ transmission, and enables better control and auditability of who is accessing various locations".
Less people at offices
Another big change that he emphasises is that many companies will implement more of a hybrid strategy for their staff – with fewer employees in the office at the same time.
"This will necessitate a change in workforce management, and solutions for hoteling or co-working spaces will continue to grow. There will also likely be an increased demand for solutions that support a multi-step process to gain entry to an area as enterprises implement pre-entry health checks that require validation and auditing capabilities", Peter Boriskin says.
Location services can also be used to support contact tracing and enforce social distancing.