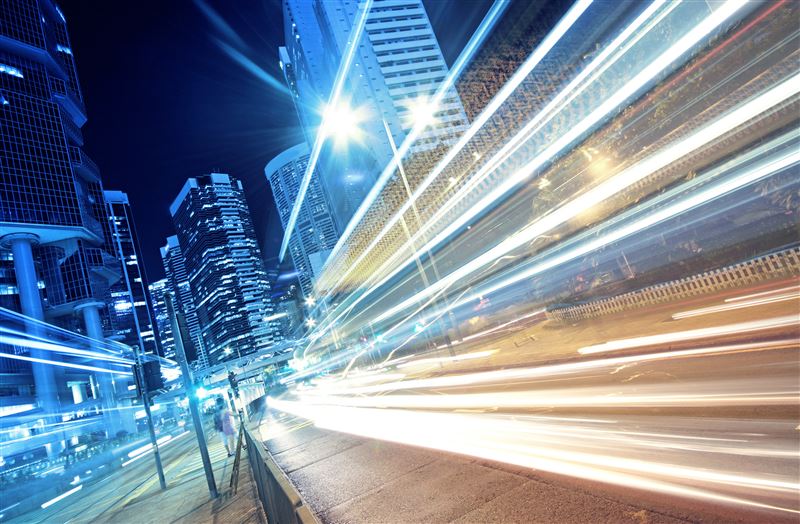 Power over Ethernet (PoE) technology has become widely deployed in most urban cities, in order to support all electronics devices in stable operation and well connected over internet.
With IP technology, video surveillance systems have become smarter, and are now utilized across multiple applications and integrated with other systems. Power over Ethernet (PoE) technology has become widely deployed in order to support the high power requirements of security cameras, wireless access points, and other connected devices.
However, the problem for the current industry is when cameras or other security devices that consume 50W of power or even higher are used, the installer has to use an injector, which is a separate piece of equipment that may create extra cost and reliability issues, not to mention the fact users often find it burdensome and inconvenient. The injector also needs an extra power source, which can be quite a hassle when space is constricted. In 2007, the IEEE introduced a new standard, 802.3at that scales power delivery up from the 15.4W available under 802.3af to a more robust 30W. However, users are still looking for more: a cost-effective PoE solution that can deliver a full 60 watts of power. While the future 802.3bt standard promises to at least double the power available to end devices, some manufacturers have decided to move quickly to satisfy this new but quickly growing market demand for more power.
How to select a 60W PoE Switch for Security Projects
To ensure the high performance of a 60W switch, the selection of high-quality key parts and components is crucial. PoE products operating in transportation, critical infrastructure, factories, and other industrial environments should be toughened up to stay functional and durable amid extreme weather, vibration, and electromagnetic interference (EMI). In harsh environments, video surveillance cameras are usually equipped with an extra heater and sometimes even IR functions, and the resulting high power consumption creates another challenge for the PoE switch. Therefore, quality assurance should begin at the product's initial design stage, with parts and components carefully selected and vetted. The printed circuit board must be carefully designed to ensure it works well with the key parts and components. Besides meeting general requirements, the circuit board must be able to function in extreme temperatures – with circuitry meeting the comprehensive requirements of EMC standards.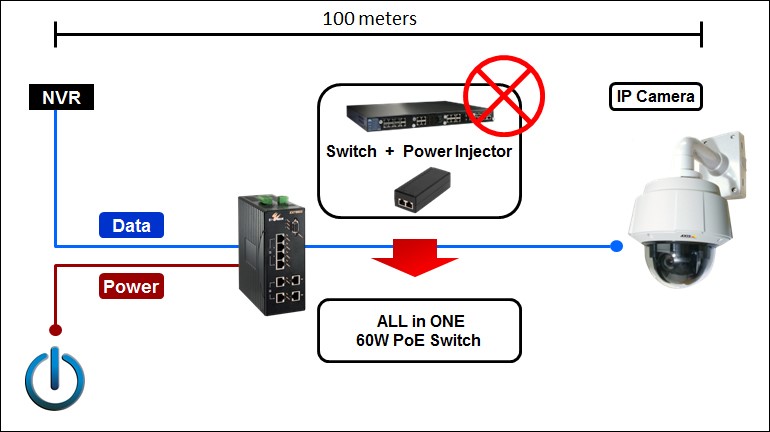 In addition to the initial industrial design, extensive product testing is required in order to evaluate the quality of a PoE switch. For Etherwan, this includes multiple PDs (powered devices) being tested to guarantee flawless transmission between the devices and the 60W switch. Tests are even run in special chambers with the temperature set at 85 degrees Celsius, to verify functionality in extreme heat.
As an example, the EX78900 switch from Etherwan provides up to 60W from each of the four ports. During testing, each port is connected to a PD. The switch passes the test only if it is functioning normally at full capacity (60 x 4 = 240W) over a temperature range between -40 degrees Celsius and 85 degrees.
Compliance with general industrial standards is not enough – customers need to have full confidence that a supplier's products and accessories are tested and approved to reach or even surpass the mean time between failure (MTBF) threshold, guaranteeing reliability while running in the most rugged conditions.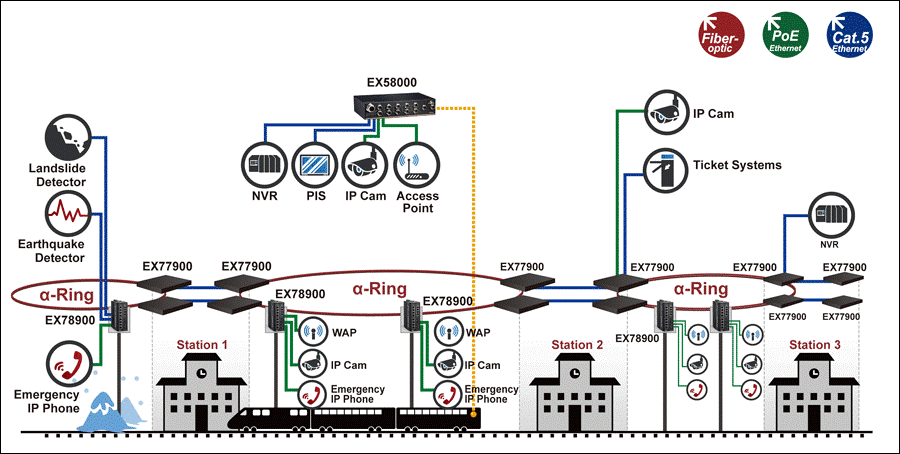 The 60W switch has applications in transportation and can be deployed in a railroad environment, allowing constant monitoring of trains and seamless communications between drivers and the command center.
Suggestions for Finding a Value-added Partner
From time to time, there are complaints in the industry about substandard quality found in industrial networking solutions. Some suppliers use commercial-grade parts and components for industrial devices, and then skip the extensive testing that is required. To avoid these quality issues, customers should request that suppliers provide professional test reports along with their marketing materials.
Additionally, stadiums, large buildings, and other large projects, require careful selection of equipment, including components and accessories. Resistance to fire and electromagnetic interference needs to be taken into account.
What's Driving the Future PoE Market
The rise of the Internet of Things means that the launch of 60W switches has arrived amid PoE's growing importance as a method for delivering power, not only to security devices, but also to a huge range of other devices as well. More and more, streetlights, interior lights, and building automation systems are all connected to the Internet for improved control and efficiency. At the center of this is PoE technology, which not only serves as an exchange point for data, but also plays a key role in delivering power. As the advantages of PoE in delivering power to edge devices become more widely recognized, adoption will continue to increase for the foreseeable future.
Future applications may include:
Intelligent lighting system: for applications at stadiums, streets and intersections, as well as where the lighting devices require higher watts power supply.
Surveillance system (with PTZ and remote-controlling): To drive the Pan, Tilt, and Zoom movements on the PTZ cameras requires power higher than 30W.
Outdoor digital signage: Embedded Systems (As hardened 60W PoE switch can satisfy higher power requirements).
About the sponsor
Etherwan Systems Inc. is a leading manufacturer of hardened Ethernet, PoE, and fibre connectivity products specifically designed for harsh and demanding environments. Founded in 1996 in Irvine, California, now with Pacific Rim headquarters and manufacturing in Taipei, Taiwan, Etherwan specialises in the design and manufacture of Ethernet switches, media converters, Ethernet extenders and power over Ethernet products for applications where connectivity is crucial.
For more information about EtherWAN's solutions, visit: www.etherwan.com
Contact info: info@etherwan.com.tw