In 2012, Dahua led the industry to introduce HDCVI Technology. Throughout the years, it continues to enhance the technology leadership by bringing state of the art performance in terms of resolution, light sensitivity, intelligence and usability to the HDCVI community. In April of 2017, Dahua unveiled HDCVI 4.0 era to the world, followed by the launch of HDCVI-4K, the first key technology in its technology framework. Now it is the debut of HDCVI-IoT.
What's HDCVI-IoT?
While still a relatively new concept unfamiliar to most people, IoT (Internet of Things) has already brought great convenience to our daily life, ranging from smart lighting and keyless entry access control system to automatic driving, all of which are free from manual control and operate on their own. With intelligent perception and recognition technology, it is possible to directly exchange information between things, meaning IoT does not rely on internet connectivity nor human intervention to operate properly. In many situations, IoT makes things respond more reliably and in a more real time manner than internet remote control systems. In fact, IoT has pervaded every aspect of today's life, changing the industry, agriculture, construction, energy, medical, retail, consumer electronics and many other industries.
Developed by Dahua patented technology, HDCVI is the world's leading HD-over-coax technology that can simultaneously transmit audio & video, power & control signals through the existing analogue infrastructure. The product line now covers front-end cameras with resolution up to 4K as well as a full range of back-end storage products. Boasting stability and excellent quality image, the product has already been widely used in all industries around the world.
HDCVI HD-over-coaxial technology features a simultaneous transmission of audio and video unaffected by long distance, and can operate on its own without network, which coincides with requirements of IoT technology: real-time-ness, off-line local control, high security performance, etc. Based on which, Dahua, being the first, proposed "HDCVI-IoT" technology that combined existing HDCVI high security video surveillance with IoT consisting of a more intelligent off-line monitoring and control system. One of the core technologies of IoT is the integration of sensors and transceivers on each device, rendering intelligence to the device to perceive and judge. For instance, if someone breaks into a high security area, a conventional camera can only re-play the video record of the time while a Motion Eye camera from the HDCVI-IoT series, through the built-in high-performance PIR (passive infrared) sensor in collaboration with built-in video analytics, can accurately filter situations like a dog moving around and natural environmental changes such as moving tree leaves, and then trigger the alarm in real time while the video is available to verify the alarm. In short, the technology as well as the function of video surveillance is upgraded from record and replay to reason and respond.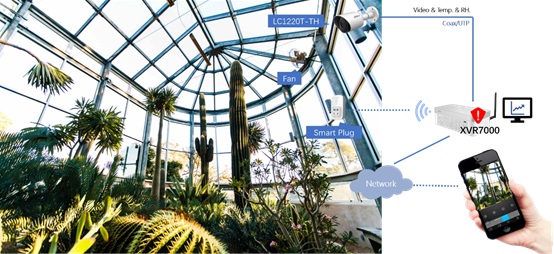 Features and Applications of LinCa Series
HDCVI-IoT technology works in four steps, to "sense" and "pass" information with the front-end camera; to "calculate" and "control" the scenario with the back-end storage. For small and medium off-line local IoT applications, Dahua has developed the Linca series of front-end products, including the 2 megapixel camera LC1220T-TH with a built-in high precision temperature and humidity sensor, the 2 megapixel camera LC1200SL-W with built-in wireless gateway, both supported by back-end storage with built in intelligent control algorithm and easy access to Ethernet.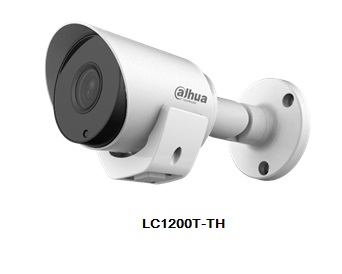 In many circumstances the data of temperature and humidity requires real time attention, such as the storage of food, medicine and chemicals. In which case, we need cameras to remotely monitor how the goods are handled, but we also need to maintain the temperature and humidity of the warehouse at a certain level or there will be some unnecessary damage. The LC1220T-TH front-end camera can do both for us, which means when the temperature and humidity go beyond the set number, the camera that collects both images and data will trigger the alarm and at the same time, through the back-end linkage control system, start the air conditioner, light and spray system to restore the normal conditions. Moreover, you can also manage the data through the back-end in real time and have a regular output of data reports to avoid any possible energy waste resulting from inefficient use of air-conditioners. 

Besides the aforementioned food and medicine applications, relics in museums and books in libraries also require a strictly controlled storage environment since they too are highly likely, sometimes irreparably, damaged by climatic factors. One recommended solution is to keep the existing analogue monitoring circuit and replace the equipment with an HDCVI-IoT series of products that will ensure a 24/7 video surveillance and environmental monitoring. The system will collect and process the essential environmental data automatically as well as send out alarm signals and make air-conditioners respond accordingly if necessary, all recorded in regular data reports sent to you to review collectively.
In addition, the growth of plants and animals are commonly known as closely related to the temperature and humidity of the environment. They will stop growing or even die in the wrong environment. An LC1220T-TH camera plus a back-end recorder and light intensity sensor is nothing less than an indoor temperature and humidity monitoring system visualised. With various real time environmental data superimposed on the monitoring video, one can have a good control of crucial parameters of agricultural greenhouses, flower breeding rooms and farms, thus optimising the efficiency.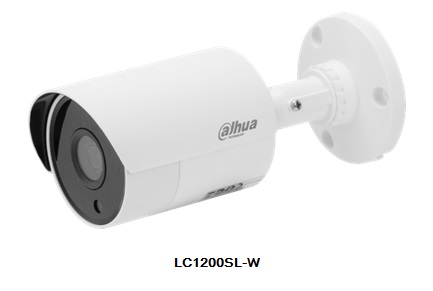 And as the demand for intelligent alarm systems keeps increasing in the security industry, a variety of sensors have been poured into the market, among which, thanks to the continuous innovation of wireless sensor technology, are wireless sensors such as smoke detectors, water leakage detectors, door contacts, PIRs, etc. They enjoy an increasing popularity among users since compared with traditional wired alarm systems they have numerous advantages, including saving the money on wiring, easier installation and better fit to the general aesthetic of the interior decoration.
In this context another innovative product in the HDCVI-IoT series, LC1200SL-W, came into being. Based on the built-in low power consumption wireless gateway transceiver of the 2MP HDCVI camera, a single camera provides access to 32 wireless alarm devices within 100m. The gateway camera is compatible with 433MHz /868 MHz /915 MHz, all three major global wireless communication frequencies and conforms to the Dahua Airfly protocol. Through wireless transmission, the detection device transmits the alarm signal to the camera which will capture the images accordingly and transmit through coaxial cable the alarm signal superimposed with video signal to the back-end devices. This, in turn, puts the real time surveillance images on the monitor screen and triggers an alarm in real time. Meanwhile the alarm signal and the video signal are bound and stored, making it easy for users to search and review the corresponding video clips by the serial number of the alarm device/s involved.
The whole system can be put together in a simple manner. It can be independently installed or uninstalled and operate on its own when not connected to the internet. It is highly secure with no delay in transmitting video or triggering alarms, ensuring timely notification when an incident occurs. If connected to the internet it allows remote control, rendering it possible for local forces to act in synchro with the Alarm Receiving Centre. The back-end intelligent video segmentation and tagging storage technology facilitates post event investigation. The ease of use and compactness of this system makes it suitable to use at home and at small-medium sites monitored by an alarm system.
Summary
HDCVI 4.0 is serving to increase the potential market space of HD analogue and protect the investments of HDCVI customers. As one key component in HDCVI 4.0, HDCVI-IoT combines advantages of coaxial transmission of HD video and Internet of Things. This technological innovation produces a 1+1>2 effect by integrating sensing information, video and HDCVI IoT for comprehensive surveillance. It functions as a sharper eye, an alarm trigger and even a first aider. Another key component of HDCVI 4.0, HDCVI-AI can even alert you before the accident happens by spontaneously analysing the data and video acquired, which is certainly something worth looking forward to.