Recently certified for information security, Hunt Electronic eventually gained the permission to deploy products in government facilities after its AI smart recognition solution has proved to be capable in terms of high efficiency, analysing speed, and system stability, and safe to use due to the fact that the entire machine components are manufactured and assembled in Taiwan.
First Title Gained After Evaluation
Hunt Electronics has been actively developing AI recognition products and solution over the years. Aimed at the high-end surveillance market, it has also developed AI image recognition application such as virtual fences, people counting, license plate recognition, etc. for key application markets. Therefore, for specified projects, Hunt not only has years of experience in project involvement to assist system integrators in planning a proper and versatile monitoring environment, but also offer on-site adjustment and training for personnel to fully understand and sustain while they monitor in operations. With AI solution come network surveillance cameras with Onvif protocol which provides API and SDK for back-end applications which require deep integration. In addition to adopting edge computing structure, the network camera can be used as a stand-alone without another host. Hunt Electronics supports self-developed NHRS video management software (VMS) that can manage multi-camera extensive number of network cameras for video surveillance management in large-scale environments.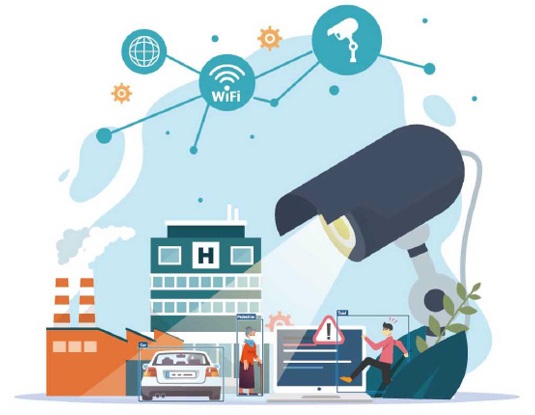 Efficient Performance and High Accuracy Required For parking Lot Management
In recent years, the license plate recognition solution for parking lot management become popular and the technology of AI image recognition has become more and more advanced, which has its accuracy improved for license plate recognition applications. However, there is currently no third-party to standardise the verification of license plate recognition; therefore, buyers usually make decisions based on the accuracy tested in actual situations. The surveillance cameras of Hunt AI image recognition series are equipped with self-developed AI image recognition algorithm, with 99% recognition of a variety of license plates with astonishingly high accuracy. It takes 0.3 seconds to quickly identify the licence plates through the parking lot where vehicles enter and exit.
Standard Equipment and Application of Smart Parking Lot - Parking Space System
Drivers do not need to take out and swipe their cards while they drive in and out of the parking lot under the Smart parking surveillance, thereby improving the convenience of vehicles traffic control. Another important factor is the availability of a parking space, which allows drivers to fast & accurately find their parking spaces while saves time looking for one, and it is also convenient for car park administrators to know the number of vacant parking spaces in real time. The end result to calculate valid parking spaces is more accurate compared to calculating statistics through vehicles entering and leaving through the entrance and exit.
Not only the AI recognition solution can accurately recognize license plates, but it can also identify different types of vehicle shapes. Common vehicles in parking lots such as cars, trucks, and motorcycles are clearly detected. In terms of real-time, the system supports an image update rate of 10 images per second. The AI image recognition can still identify vehicles when they are blocked in sight due to blind angles of vehicles parking in the lane, since it makes efficient judgment which provides accurate and reliable verification results.
Hunt Electronics introduces the AI image recognition application launched for smart parking solution, applicable for both outdoor and indoor environments in co-operation with a variety of bullet/dome network cameras. There have been already quite a few successful cases for meeting the actual needs of system integrators in planning monitoring sites in large scales. We are confident to say that we can meet expectations for what is required and provide the convenience and accuracy brought by our AI intelligence solutions. System providers are also welcome to consult and test with our products and services.
aboutHunt Electronics
Origin and Identity
Founded in 1988, Hunt Electronics is one of the largest manufacturers in Taiwan's security surveillance industry and an important contributor of the global industry. Apart from having been a major role in manufacture of surveillance equipment, we have also been composing solutions with our specialty, actively integrating related resources, and developing our applications in various markets.
Service Positioning
Based on our devotion in research and development for more than 30 years, Hunt is now inclusively launching the intelligent imaging solutions of the IoT, combined with AI technology to manage video monitoring with image recognition, which has been introduced to serve our clients in various applications, such as retail stores, construction sites, elderly care centres, transportation systems, financial institutions and other applicable environments.
Our commitment to integrate cross-domain technology has made its way to adapt edge computing to increase our image pre-processing for quickly responding the system and cloud computing for reducing the overall system costs, we are also able to integrate other IoT devices to achieve more system goal efficiently. Providing our customized service through the process of strictly supervised production quality, we offer our clients a complete surveillance solution for different scenarios.
Company Vision
Quality First, Customer Satisfaction & rdquo is the core value which guides us to maintain our established professional image and strengthen the affirmation from our clients. We never stop expanding our innovation skills by enthusiastically investing in employee on-the-job training, and cultivating future talents to improve the performance of our team in the development of our business in steady progress. With these substantial efforts, we are able to set our feet on solid ground in Taiwan, stay ahead of the surveillance industry, and focus on being one of the top suppliers of smart security solutions in the world.
Contact Info:
HUNT ELECTRONIC CO., LTD.
Tel 886-2-8692-7999
Fax 886-2-8692-6678
E-mail marketing@hunt.com.tw
Website:  www.huntelec.com.tw