3.5" IP WEB ACCESS CONTROL TERMINAL
CT9 is stylish and modern Linux based 3.5" touch screen reader (as the main picture above-shown), supports RF dual 125KHz & 13.56MHz contactless smart card, ISO18092 NFC, BLE and QR code mobile phone access ID and Pincode. CT9 is HTTP Access Control Reader for server centralized access control system, no need of Controller. it's LINUX based 3.5" Touch Screen Reader with TCP/IP Ethernet HTTP for both LAN and Internet Cloud Server Software. CT9 supports multiple access control mode, Encrypted RFID Card/Mobile ID or/and PIN code, which is with relay Control for both Online Server Real-time Monitor & Standalone Access Control Solution.
7" Android/Linux uTouch X Access Control Terminal

With Android 5.1/Linux OS and quad-core processor, the uTouch with its innovative technologies becomes a new flagship product that perfect for general purpose applications from access control, daily attendance, workforce to loyalty member management. It is a 5-factor authentication device with optional fingerprint, RF Card, Pin code and NFC/BT mobile ID for mobile phone access credential. It's with auto focus camera to snap visitor's picture for image records to enhance the security for membership management. It's powered by DC 9-24V, with optional PoE and Battery. With web server, uTouch can build networked central manage system with TCP/IP, 4G, and WiFi enable connection to control centres for ease of management.
uTouch with 7" touch screen is fully configurable and customizable on friendly GUI to meet extendable applications in faster speed and high compatibility. It is ideal for your turnkey solution on various applications and occasions.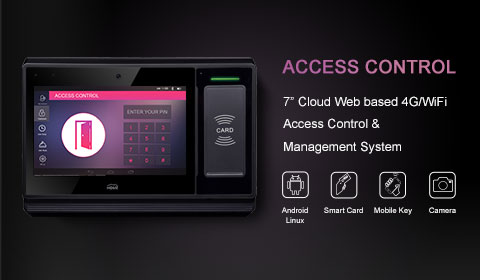 CIDRON Family Readers
The Cidron reader family is 100% Swedish design and first class quality produced by Civintec, compatibility with secure RFID-technologies (Mifare Classic, Mifare DESFire) and allows AES128 encrypted communication between credential and reader, with embedded SAM's gives protection to further increase the security of storing encryption key (EAL5+). Cidron is also compliant to encrypted BLE, ISO18092 NFC and QR code for access control by mobile credential, with addressable RS485 OSDP V1& V2 protocol.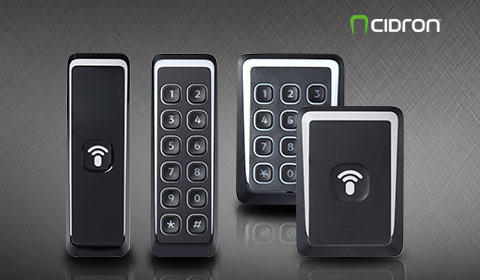 3.5" Touch Screen Keypad Reader
Crystal Touch Series is stylish and modern Linux based 3.5" touch screen reader configurable with touch pin code, display any logotype or image, with IP65 ideal for outdoor use. It supports NFC and BLE for mobile ID credential, and dual 125 KHz & 13.56 MHz AES encrypted smart card. It's with wiegand 256, RS485 OSDP to work with the most brands of controllers on the market.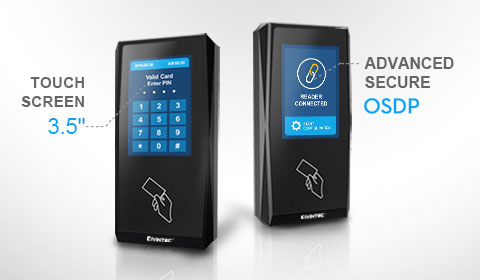 CK5 2.4" OLED Keypad Reader
Crystal Keypad provides a multiple platform of RF-ID technologies and communication interfaces equipped with an OLED display and a mechanical keypad in a timeless design. CRYSTAL KEYPAD suites almost all kinds of applications and environments for indoor and outdoor installations and to the highest level of security.

Crystal Keypad incorporates with several chip technology and communication interfaces standards. For access control systems supporting OSDP secure channel a credential transaction can be complete AES 128 encrypted secured during the card reading and transmitting process between the reader and the access control controller.
In additional to traditional radio frequency technologies such as 13,56MHz and 125KHz also BLE 5.0 and SAM AV2 are supported. This combination makes the product flexible for all kind of security applications and future technology requirements applicable for the security industry. The LED symbol indicates in combination with display text and buzzer sounds a user-friendly and clear information in real time for the user.
Crystal Keypad is tamper protected with a mechanical switch which allows for indication both on attempts of break off and manipulation of the reader.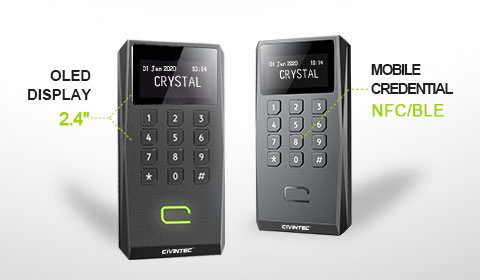 about CIVINTEC Global
Civintec is a world-leading designer and manufacturer of smart card terminals and devices, established in 2006 and focusing on R&D. We are exporting to over 100 countries and areas. The company brand Civintec is worldwide registered. The head office is located in Shenzhen China. To be even more available, Civintec opened the first branch office in Europe, Stockholm Sweden in January 2016. Civintec Europe AB will focus on Europe and North American market. Since years we have many clients in this region and with help of the European company we will now be even more available for our clients in those regions.
We are aiming to become the best technical service company in the world on designing and manufacturing of smart card reader devices. Civintec provides cost effective OEM/ODM technical services for product customization based on a technical platform designed to support all kind of RFID and interface technologies. We design products with state of the art technologies to cater to clients' requirement and to make them competitive and advanced on the market.
Check more information at www.civintec.com.