LED Vision, one of Ability's early partners in Malaysia, have quickly identified the shortcomings in the current traffic management system and been able to quickly provide their AIoT solution: ClearSight, an edge-based AI camera based on Ability's AI-Vue series camera, and AdvanCTi, a central management software platform for city lighting, camera, and traffic intelligence.
Traditionally the city authorities rely on traffic enforcers on the road to collect traffic data and report incidents or unusual traffic flow they are witnessing. However this approach has been proven to be expensive and less effective as each officer can only provide traffic data at a certain road section or cross junction but has no overall systematic view. To overcome this problem, a real-time solution that optimizes traffic flow using Edge-computing camera was proposed and developed together by the OEM/ODM camera manufacturer Ability and its partner LED Vision in Malaysia.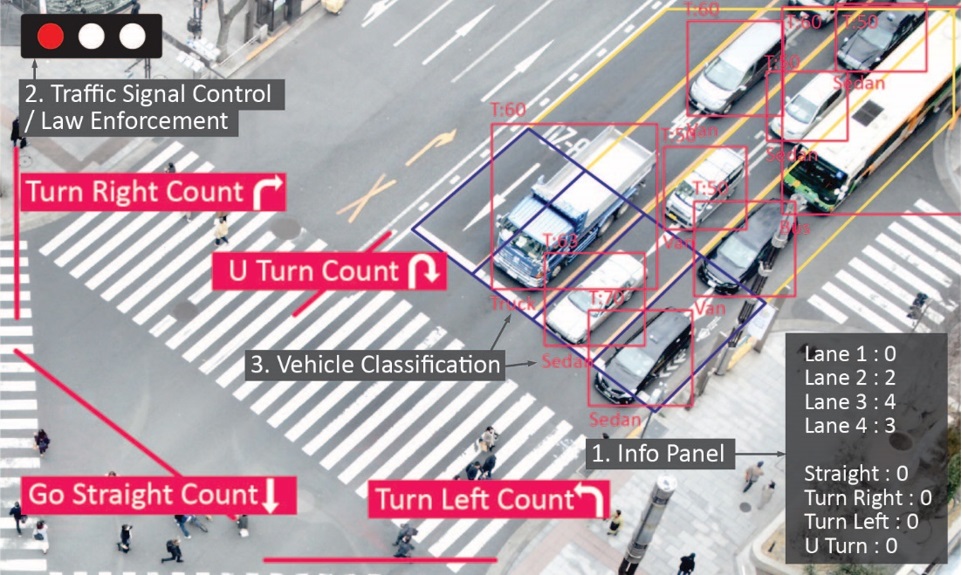 As the behavior of eah driver is hard to predict, Ability and LED Vision have found that the best solution to the traffic control and management problem is instant traffic flow analysis based on real-time images and control optimization. The goal is to make the traditional traffic signal control system flexible and smart enough so that the change of signals is adapted to the dynamic fluctuation of traffic flow in the region and the actual real-time analytical results such as the number count and direction of vehicles and pedestrians at the crossing junction, and actual journey time for a specific vehicle from one destination to another.
Even though the traffic authorities are often able to determine the patterns from time to time, the most difficult challenge for traffic control is how to respond to each situation immediately, automatically and precisely with the most optimal decision. As a result, LED Vision had planned the project deployment into 3 phases focusing on using Ability edge AI camera as the data input source for later AI model development and inference training.
Phase one experiment started with traffic data statistic collection at 3 main consecutive traffic junctions with smart cameras and dashboard visualization for a model build-up. The traffic data includes vehicle journey time, idle time, and queue length as captured by Ability's AI-Vue cameras. These cameras are running several tasks on the edge device including Automatic License Plate Recognition (ANPR), vehicle detection, and classification models. The users can draw a bounding box on the screen to measure the average idle time at each intersection and the traffic flow directions. Using a patented method, the captured vehicle was traced with its unique number plate across multiple intersections to measure the journey time, while the detected vehicle models and numbers were counted as inputs to assess the idle time and queue length. Thanks to the high quality images and computing performance of Ability's AI-Vue cameras, the AdvanCTi® system from LED Vision is able to capture, analyze, and generate reliable and accurate traffic data for real-time traffic management, especially during the rush hours.
In phase 2, an accurate traffic model was developed and trained based on several traffic parameters such as number of lanes, saturation flow, traveling speed from one junction to another, combination of vehicles, and driver behavior, etc. These parameters were later used as input for the artificial intelligence engine (Genetic Algorithm, deep reinforcement learning, and etc.) to learn the best offset and timing which can adapt to real-time traffic flow.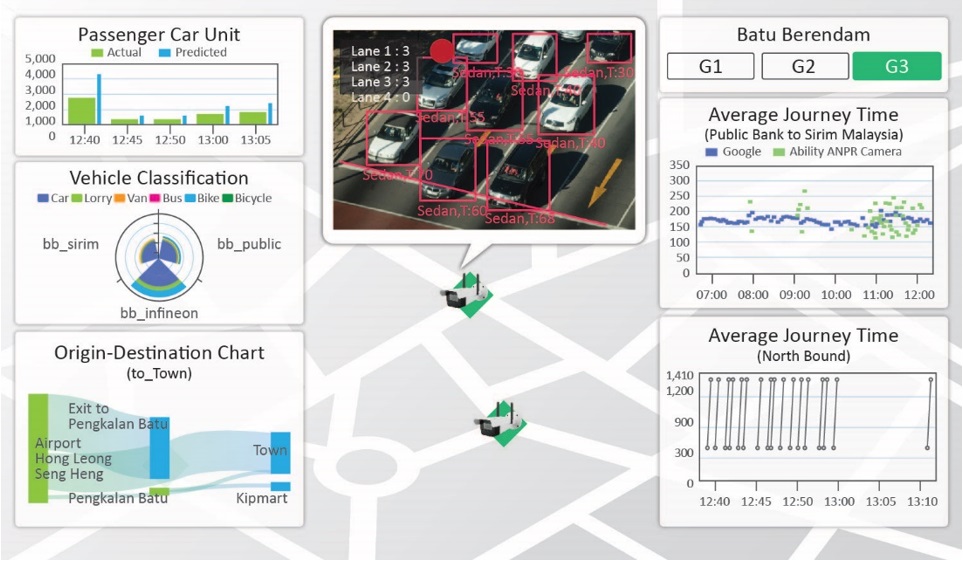 The third phase was to integrate and use the already-trained model in the separate traffic controller and Ability's AI-Vue cameras at the intersections. Results from phase 3 experiment showed that an average of 33.5% reduction in travel time of vehicles was achieved by the solution just with the 1st iteration and that number is expected to improve even further over time. This result is better than the commuting time predicted by those commonly used navigation application available on smart phones.
During the deployment of this project, it has been clearly proven how important it is to work with an experienced and capable design and manufacturing partner like Ability. For example the cameras used in this project were typically mounted at a high elevation so the camera can see a certain level of details for proper detection and recognition. As these cameras for traffic monitoring were deployed outdoors, the robustness of the camera becomes extremely crucial as it must be able to withstand harsh weather and challenging environments with minimum maintenance needed.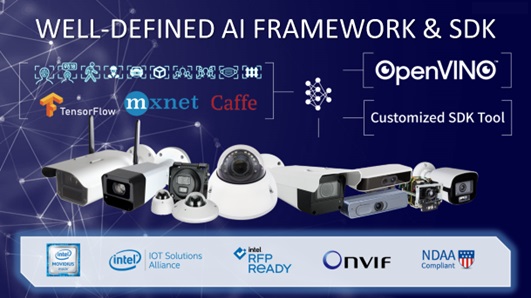 Ability's AI-Vue cameras fully satisfy these requirements with the best-in-class IP and IK ratings and the in-house optimized 3A algorithms. Furthermore for the traffic monitoring application, some of the cameras need to be installed at suburb or rural locations where only limited power supply and network interconnectivity are available. As a result, Ability's optional 4G-LTE module and solar power module for the AI-Vue camera are such great advantages for those usage scenarios.
In this project the data acquired from the AI-Vue cameras can be immediately uploaded to the backend management systems for quick decision making and optimal control. Based on Ability's AI framework and the Intel Distribution of OpenVINOToolkit, it is very easy to upgrade the camera firmware.  The AI models and application code can be uploaded and running on the camera edge via Over-The-Air (OTA). This feature is essential as continuous learning and iterative improvements are a cornerstone for successful AI application deployments.
About  Ability Enterprise
Vision
To master image and optical technology expertise, to extend our advantages to various imaging device products, and to become a leader in the design/manufacture of optical, mechanical and electrical integration devices.
Mission
From PC camera to digital still camera, Ability has been a leader in the imaging input device design and manufacturing for more than 9 years. From key component integration, optical lens design, image sensor, imaging processor, to mechanical and electrical integration, we are one of the best suppliers in the camera OEM/ODM industry.  For the upcoming imaging input devices, such as sports camera, consumer and professional camera, Ability will continue to provide the best quality product based on customers' needs.
Corporate Philosophy
We believe employee is Ability's most valuable asset. We encourage all our employees to make Ability Enterprise as their own home, to develop and improve their knowledge and skill, and to help the company keep driving future growth. With the best team-work, we together create results that are exceeding customer's expectation. 
Click here to read more...
Contact Info:
ABILITY Enterprise Co., Ltd.
(Attn:  Jonny. Wu, Sr. Director)
TEL:  +886-2-8522-9788
Email:  jonny.wu@abilitycorp.com.tw
Website: www.abilitycorp.com.tw