With a full HD camera and an optically stabilized, 40x zoom lens from Fujinon, two high-performance components are integrated into one system.
"Thanks to its powerful 1/1.8" image sensor, the long focal length range of 20 mm to 800 mm and state-of-the-art image processing technology, the Fujinon SX800 is ideally suited for aerial surveillance", says Rob van der Spank.
Fully integrated system
In modern society, the security needs of citizens are constantly increasing. Surveillance cameras with long focal lengths are not only used to address sensitive issues such as border security but are increasingly being incorporated into public infrastructure such as airports, seaports and motorways.
Long range surveillance systems must cope with special challenges. For optics with long focal lengths, the smallest vibrations are sufficient to compromise the image information. Heat haze or fog in the air also impair image quality. And, a focus drive that is too slow leads to safety-relevant information loss.
"However, with the development of the new Fujinon SX800, Fujifilm has found a way to minimize the impact of these challenges. Instead of developing a surveillance camera and a separate matching lens, the concept of a fully integrated system consisting of camera and lens has been realised", says Rob van der Spank.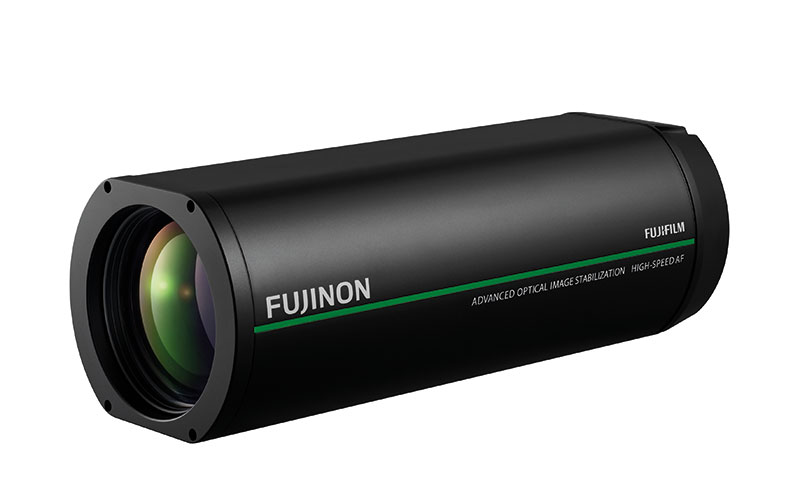 Image stabilisation
In addition to the high-quality zoom optics, the Fujinon SX800 has a powerful combined optical and electronic image stabilisation mechanism that provides angle correction of up to ±0.22 degrees. According to Fujifilm, the integrated high-speed autofocus provides a sharply focused image in less than a second – a "normal" autofocus can take 6 to 8 seconds to focus the image and may in a worst case scenario lead to loss of important information.
SX800 also has a fog filter and heat haze reduction technology that helps prevent weather interference.
"The system provides consistently sharp images – even of objects several kilometres away. In addition, the integrated design of the new Fujinon SX800 reduces the high adjustment effort normally required for camera installation", says Rob van der Spank.
Various applications
There are many possible applications for Fujinon SX800: for example monitoring large areas and long distances, such as borders, harbours and airports but also applications in the traffic sector and observing crowds of people. It can also be used to monitor forest fire areas as well as dams, industrial plants etc.
The SX800 can flexibly be integrated into a PT housing or mounted on a pole or tripod. Its various interfaces and the compact design make it easy to integrate even in existing surveillance systems, according to Fujifilm.